Monday 25 November 2024 Calendar with holidays, observances and special days
International Day for the Elimination of Violence against Women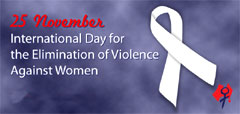 By resolution 54/134 of 17 December 1999, the United Nations General Assembly designated 25 November as the International Day for the Elimination of Violence against Wome..→
Holidays and observances
Events
2015 – Pope Francis makes his first official visit to Africa.
1966 – First television link between Australia and the UK.
1952 – Korean War: After 42 days of fighting, the Battle of Triangle Hill ends with Chinese victory, American and South Korean units abandon their attempt to capture the "Iron Triangle".
1950 – The Great Appalachian Storm of November 1950 impacts 22 American states, killing 353 people, injuring over 160, and causing US$66.7 million in damages (1950 dollars).
1940 – World War II: First flight of the de Havilland Mosquito and Martin B-26 Marauder.
1876 – American Indian Wars: In retaliation for the American defeat at the Battle of the Little Bighorn, United States Army troops sack the sleeping village of Cheyenne Chief Dull Knife at the headwaters of the Powder River.
1874 – The United States Greenback Party is established as a political party consisting primarily of farmers affected by the Panic of 1873.
1864 – American Civil War: A group of Confederate operatives calling themselves the Confederate Army of Manhattan starts fires in more than 20 locations in an unsuccessful attempt to burn down New York City.
1863 – American Civil War: Battle of Missionary Ridge: At Missionary Ridge in Tennessee, Union forces led by General Ulysses S. Grant break the Siege of Chattanooga by routing Confederate troops under General Braxton Bragg.
1826 – The Greek frigate Hellas arrives in Nafplion to become the first flagship of the Hellenic Navy.
1783 – American Revolutionary War: The last British troops leave New York City three months after the signing of the Treaty of Paris.
Births
1991 – Jamie Grace, American singer-songwriter, guitarist, and actress. Jamie Grace Harper (born November 25, 1991) is an American contemporary Christian musician, singer, rapper, and songwriter from Atlanta, Georgia.
1991 – Kevin Woo, American-South Korean singer and dancer. Kevin Woo (born November 25, 1991), also known mononymously as Kevin, is a Korean-American singer, actor and television host currently based in Japan.
1991 – Kyler Fackrell, American football player. Kyler Bruce Fackrell (born November 25, 1991) is an American football outside linebacker for the Green Bay Packers of the National Football League (NFL).
1990 – Rye Rye, American rapper, dancer, and actress. Recordings, she released her first mixtape RYEot PowRR in 2011 and her anticipated debut album Go! Pop! Bang! on May 15, 2012.
1986 – Katie Cassidy, American actress. Katherine Evelyn Anita Cassidy (born November 25, 1986), also credited as Katie Cassidy Rodgers during her marriage, is an American actress and director.
1981 – Barbara Pierce Bush, American activist, was the wife of George H. W.
1981 – Chevon Troutman, American basketball player. He is a 6'8" (2.02 m) tall power forward, who plays for Regatas Corrientes of the Liga Nacional de Básquet.
1981 – Jared Jeffries, American basketball player. Jared Scott Carter Jeffries (born November 25, 1981) is a retired National Basketball Association player who is currently the President of the eSports organization Echo Fox.
1980 – John-Michael Liles, American ice hockey player. In addition to his playing career, Liles is a minority owner of the Indiana Ice of the United States Hockey League (USHL).
1980 – Josh Mathews, American wrestler and sportscaster. Joshua Lomberger (born November 25, 1980) better known by the ring name Josh Mathews, is an American professional wrestling play by play commentator and former professional wrestler, currently signed to Impact Wrestling.
1980 – Nick Swisher, American baseball player. Nicholas Thompson Swisher (born November 25, 1980) is an American former professional baseball outfielder and first baseman in Major League Baseball (MLB).
1979 – Michael Lehan, American football player. He played college football at Minnesota.
1976 – Clint Mathis, American soccer player and coach. He also played in Major League Soccer for the MetroStars, where he notably scored five goals during a game in August 2000.
1976 – Donovan McNabb, American football player and sportscaster. Donovan Jamal McNabb (born November 25, 1976) is an American former football quarterback who played in the National Football League (NFL) for 13 seasons, primarily with the Philadelphia Eagles.
1973 – Eddie Steeples, American actor, producer, and screenwriter. Eddie Steeples (born November 25, 1973) is an American actor known for his roles as the "Rubberband Man" in an advertising campaign for OfficeMax, the "Distinguished Dog" in Would You Rather and as Darnell Turner on the NBC sitcom My Name Is Earl.
1973 – Erick Strickland, American basketball player. Demerick Montae "Erick" Strickland (born November 25, 1973) is an American professional basketball player formerly in the National Basketball Association (NBA).
1971 – Christina Applegate, American actress, singer, dancer, and producer. In her adult years, Applegate established a film and television career, winning an Emmy Award (for her guest role in the sitcom Friends) and earning Tony and Golden Globe nominations.
1968 – Erick Sermon, American rapper and producer. Sermon is best known as one-third, alongside PMD & DJ Scratch, of late-1980s–1990s hip hop group EPMD and for production work.
1966 – Stacy Lattisaw, American R&B singer. Stacy Lattisaw Jackson (née Lattisaw; born November 25, 1966) is an American R&B singer.
1965 – Cris Carter, American football player, coach, and sportscaster. After starting for the Ohio State University Buckeyes, Carter was drafted by the Eagles in the fourth round of the 1987 NFL supplemental draft.
1965 – Tim Armstrong, American singer-songwriter, guitarist, and producer. Prior to forming Rancid, Armstrong was in the influential ska punk band Operation Ivy.
1964 – Mark Lanegan, American singer-songwriter. During his time in the band, Lanegan also started a low-key solo career and released his first solo studio album, The Winding Sheet, in 1990.
1963 – Bernie Kosar, American football player and sportscaster. Bernard Joseph Kosar Jr. (born November 25, 1963) is a former American football quarterback who played professionally in the National Football League (NFL).
1963 – Chip Kelly, American football player and coach. Before coaching in the NFL, he was the head coach of the Oregon Ducks from 2009 to 2012, leading the program to four consecutive BCS bowl game appearances including the 2011 BCS National Championship Game.
1963 – Kevin Chamberlin, American actor and director. For his theatre work, he received three Tony Award and three Drama Desk Award nominations.
1962 – Hironobu Sakaguchi, Japanese game designer, founded Mistwalker. He left Square Enix and founded the studio Mistwalker in 2004.
1960 – Amy Grant, American singer-songwriter. She has been referred to as "The Queen of Christian Pop".
1960 – John F. Kennedy Jr., American lawyer, journalist, and publisher (d. 1999), was an American lawyer, journalist, and magazine publisher. He was a son of President John F.
1958 – Naomi Oreskes, American historian of science. She has worked on studies of geophysics, environmental issues such as global warming, and the history of science.
1957 – Bob Ehrlich, American lawyer and politician, 60th Governor of Maryland. House of Representatives.
1955 – Don Hahn, American director and producer. Donald Paul Hahn (born November 26, 1955) is an American film producer who is credited with producing some of the most successful animated films in recent history, including The Lion King and Beauty and the Beast, the first animated film to be nominated for the Oscar for Best Picture.
1953 – Mark Frost, American author, screenwriter, and producer. Mark Frost (born November 25, 1953) is an American novelist, screenwriter, director and film producer, best known as a writer for the television series Hill Street Blues and as the co-creator of the television series Twin Peaks.
1952 – Crescent Dragonwagon, American author and educator. Crescent Dragonwagon (née Ellen Zolotow, November 25, 1952, New York City) is a writer in six different genres, and a workshop leader.
1951 – Bill Morrissey, American singer-songwriter (d. 2011), was a Grammy-nominated American folk singer-songwriter based in New Hampshire.
1951 – Bucky Dent, American baseball player and manager. Dent is most famous for his home run in a tie-breaker game against the Boston Red Sox at Fenway Park at the end of the 1978 regular season.
1951 – Charlaine Harris, American author and poet. The television show was a critical and financial success for HBO, running seven seasons, from 2008 through 2014.
1950 – Chris Claremont, English-American author. Claremont (/ˈklɛərmɒnt/; born November 25, 1950) is a British-born American comic book writer and novelist, known for his 1975–1991 stint on Uncanny X-Men, far longer than that of any other writer, during which he is credited with developing strong female characters as well as introducing complex literary themes into superhero narratives, turning the once underachieving comic into one of Marvel's most popular series.
1948 – Lars Eighner, American author. Laurence "Lars" Eighner Hexamer (born Laurence Vail Eighner; November 25, 1948) is the author of Travels with Lizbeth, a memoir of homelessness in the American Southwest during the late 1980s; the included essay "On Dumpster Diving," which is widely anthologized both at full length and in abridged form under the title "My Daily Dives in the Dumpster"; Pawn to Queen Four, a novel; Lavender Blue: How to Write and Sell Gay Men's Erotica, also published as Elements of Arousal (an early edition includes an introduction by noted erotica author John Preston); Gay Cosmos, a work of gay theory; and numerous short works of gay men's erotica, collected under various titles.
1947 – John Larroquette, American actor. He also played Jenkins/Galahad in TNT's The Librarians.
1947 – Jonathan Kaplan, French-American director and producer. Kaplan received five Emmy nominations for his roles directing and producing ER.
1945 – Gail Collins, American journalist and author. Joining the Times in 1995 as a member of the editorial board, from 2001 to 2007 she served as the paper's Editorial Page Editor – the first woman to attain that position.
1945 – Patrick Nagel, American painter and illustrator (d. 1984), was an American artist. He created popular illustrations on board, paper, and canvas, most of which emphasize the female form in a distinctive style descended from Art Deco.
1944 – Ben Stein, American actor, television personality, game show host, lawyer, and author. Benjamin Jeremy Stein (born November 25, 1944) is an American writer, lawyer, actor, comedian, and commentator on political and economic issues.
1943 – Jerry Portnoy, American singer-songwriter and harmonica player. Jerry Portnoy (born November 25, 1943 in Chicago, Illinois, United States) is an American harmonica blues musician, who has toured with Muddy Waters and Eric Clapton.
1942 – Bob Lind, American singer-songwriter and guitarist. Bob Lind (born Robert Neale Lind, November 25, 1942) is an American folk music singer-lyricist, who helped define the 1960s folk rock movement in the U.S. and U.K.
1940 – Joe Gibbs, American football player and coach. Joe Jackson Gibbs (born November 25, 1940) is an American former professional football coach who became a race car team owner in NASCAR Cup Series, NASCAR Xfinity Series, and National Hot Rod Association (NHRA).
1940 – Percy Sledge, American singer (d. 2015), was an American R&B, soul and gospel singer. He is best known for the song "When a Man Loves a Woman", a No. 1 hit on both the Billboard Hot 100 and R&B singles charts in 1966.
1939 – Martin Feldstein, American economist and academic. He was the George F.
1936 – Phoebe S. Leboy, American biochemist, was an American biochemist and advocate for women in science.
1936 – Trisha Brown, American dancer and choreographer, was an American choreographer and dancer, and one of the founders of the Judson Dance Theater and the postmodern dance movement.
1935 – Robert Berner, American geologist and academic (d. 2015), was an American scientist known for his contributions to the modeling of the carbon cycle. He taught Geology and Geophysics from 1965 to 2007 at Yale University, where he latterly served as Professor Emeritus until his death.
1933 – Kathryn Crosby, American actress and singer. Olive Kathryn Grandstaff (born November 25, 1933) is an American retired actress and singer who performed in films under the stage names Kathryn Grant and Kathryn Crosby.
1932 – Takayo Fischer, American actress and singer. Takayo Fischer (née Tsubouchi; November 25, 1932) is an American stage, film and TV actress, as well as voice-over actress and singer.
1931 – Nat Adderley, American cornet and trumpet player (d. 2000), was an American jazz trumpeter. He was the younger brother of saxophonist Julian "Cannonball" Adderley, whom he remained very close to in his career, but under whose shadow he lived for most of his life.
1929 – Judy Crichton, American director and producer (d. 2007), was an American television news and documentary producer.
1927 – John K. Cooley, American journalist and author (d. 2008), was an American journalist and author who specialized in islamist groups and the Middle East. Based in Athens, he worked as a radio and off-air television correspondent for ABC News and was a long-time contributing editor to the Christian Science Monitor.
1926 – Jeffrey Hunter, American actor and producer (d. 1969), was an American film and television actor and producer known for his roles in films such as The Searchers and King of Kings. On television, Hunter was known for his 1965 role as Capt.
1926 – Poul Anderson, American author (d. 2001), was an American science fiction author who began his career in the 1940s and continued to write into the 21st century. Anderson authored several works of fantasy, historical novels, and short stories.
1924 – Paul Desmond, American saxophonist and composer (d. 1977), was an American jazz alto saxophonist and composer, best known for his work with the Dave Brubeck Quartet and for composing that group's biggest hit, "Take Five". He was one of the most popular musicians to come out of the cool jazz scene.
1924 – Sybil Stockdale, American activist, co-founded the National League of Families (d. 2015), was the wife of a Vietnam War United States Navy pilot who became a prisoner of war (POW). Sybil then became the founder and first National Coordinator of the National League of Families, a nonprofit organization that worked on behalf of American Vietnam-era Missing in Action and Prisoner of War Families.
1923 – Art Wall Jr., American golfer (d. 2001), was an American professional golfer, the winner of the Masters Tournament in 1959.
1922 – Fernance B. Perry, Portuguese-American businessman and philanthropist (d. 2014), was a Portuguese-Bermudian entrepreneur and business leader, who had a prominent role in the economy of Bermuda from the mid-20th century to the time of his death in 2014. Originally from the Azores, his professional career spanned such diverse fields as retail supermarkets, television and radio broadcasting, real estate management and maritime shipping.
1920 – Noel Neill, American actress (d. 2016). She is known for playing Lois Lane in the film serials Superman (1948) and Atom Man vs.
1920 – Ricardo Montalbán, Mexican-American actor, singer, and director (d. 2009), was a Mexican actor. His career spanned seven decades, during which he became known for many performances in a variety of genres, from crime and drama to musicals and comedy.
1919 – Norman Tokar, American director, producer, and screenwriter (d. 1979), was a prolific director and occasionally writer and producer of serial television and feature films, who directed many of the early episodes of Leave it to Beaver, and found his greatest success directing over a dozen films for Walt Disney Productions, spanning the 1950s to the 1970s.
1916 – Peg Lynch, American actress and screenwriter (d. 2015), was an American writer, actress, and creator of the radio and television sitcoms Ethel and Albert, The Couple Next Door, and The Little Things in Life. She created, wrote, starred in and owned her own sitcom; she retained that ownership throughout her life.
1914 – Joe DiMaggio, American baseball player and coach (d. 1999), was an American baseball center fielder who played his entire 13-year career in Major League Baseball for the New York Yankees. Born to Italian immigrants in California, he is widely considered one of the greatest baseball players of all time, and is perhaps best known for his 56-game hitting streak (May 15–July 16, 1941), a record that still stands.
1913 – Lewis Thomas, American physician, etymologist, and educator (d. 1993), was an American physician, poet, etymologist, essayist, administrator, educator, policy advisor, and researcher.
1909 – P. D. Eastman, American author and illustrator (d. 1986), was an American screenwriter, children's author, and illustrator. As an author, he is known primarily as P.
1906 – Alice Ambrose, American philosopher and logician (d. 2001), was an American philosopher, logician, and author.
1904 – Lillian Copeland, American discus thrower and shot putter (d. 1964), was an American track and field athlete, who excelled in weight throwing. She has been called "the most successful female discus thrower in U.S. history", and also held multiple titles in shot put and javelin throwing.
1902 – Eddie Shore, Canadian-American ice hockey player and coach (d. 1985), was a Canadian professional ice hockey defenceman, principally for the Boston Bruins of the National Hockey League, and the longtime owner of the Springfield Indians of the American Hockey League, iconic for his toughness and defensive skill. In 2017 Shore was named one of the '100 Greatest NHL Players' in history.
1900 – Helen Gahagan Douglas, American actress and politician (d. 1980). Her career included success on Broadway, as a touring opera singer, and the starring role in the 1935 movie She, in which her portrayal of the villain inspired Disney's Evil Queen in Snow White and the Seven Dwarfs (1937).
1896 – Virgil Thomson, American composer and critic (d. 1989). He was instrumental in the development of the "American Sound" in classical music.
1895 – Helen Hooven Santmyer, American poet and author (d. 1986), was an American writer, educator, and librarian. She is primarily known for her best-selling epic "...And Ladies of the Club", published when she was in her 80s.
1893 – Joseph Wood Krutch, American author and critic (d. 1970), was an American writer, critic, and naturalist, best known for his nature books on the American Southwest and as a critic of reductionistic science.
1883 – Harvey Spencer Lewis, American mystic and author (d. 1939), was the founder in the USA and the first Imperator of the Ancient and Mystical Order Rosae Crucis (AMORC), from 1915 until 1939.
1874 – Joe Gans, American boxer (d. 1910), was an American professional boxer. Gans was rated the greatest Lightweight boxer of all-time by boxing historian and Ring Magazine founder, Nat Fleischer.
1873 – Albert Henry Krehbiel, American painter and illustrator (d. 1945), was the most decorated American painter ever at the French Academy, winning the Prix De Rome, four Gold Medals and five cash prizes. He was born in Denmark, Iowa and taught, lived and worked for many years in Chicago.
1872 – Robert Maysack, American gymnast and triathlete (d. 1960), was an American gymnast and track and field athlete who competed in the 1904 Summer Olympics. He died in Highlands County, Florida.
1870 – Winthrop Ames, American director, producer, and playwright (d. 1937), was an American theatre director and producer, playwright and screenwriter.
1867 – Talaat Harb, Egyptian economist, founded the Banque Misr (d. 1941), was a leading Egyptian economist and founder of Banque Misr, and its group of companies, in May 1920.
1865 – Kate Gleason, American engineer, businesswoman, and philanthropist (d. 1933), was an American engineer and businesswoman known both for being an accomplished woman in the predominantly male field of engineering and for her philanthropy.
1862 – Ethelbert Nevin, American pianist and composer (d. 1901). Nevin was born on November 25, 1862, at Vineacre, on the banks of the Ohio River, in Edgeworth, Pennsylvania.
1846 – Carrie Nation, American activist (d. 1911), was an American woman who was a radical member of the temperance movement, which opposed alcohol before the advent of Prohibition. She is remembered for attacking alcohol-serving establishments (most often taverns) with a hatchet.
1844 – Karl Benz, German engineer and businessman, founded Mercedes-Benz (d. 1929), was a German engine designer, automobile engineer. His Benz Patent Motorcar from 1885 is considered the first practical automobile.
1843 – Henry Ware Eliot, American businessman and philanthropist (d. 1919), was an American industrialist and philanthropist who lived in St. Louis, Missouri.
1835 – Andrew Carnegie, Scottish-American businessman and philanthropist (d. 1919), was a Scottish-American industrialist, and philanthropist. Carnegie led the expansion of the American steel industry in the late 19th century and became one of the richest Americans in history.
1817 – John Bigelow, American lawyer and politician, United States Ambassador to France (d. 1911), was an American lawyer and statesman.
Deaths
2016 – Ron Glass, American actor (b. 1945)
2015 – Elmo Williams, American director, producer, and editor (b. 1913)
2014 – Denham Harman, American biogerontologist and academic (b. 1916)
2014 – Irvin J. Borowsky, American publisher and philanthropist (b. 1924)
2013 – Al Plastino, American author and illustrator (b. 1921)
2013 – Chico Hamilton, American drummer and bandleader (b. 1921)
2013 – Lou Brissie, American baseball player (b. 1924)
2012 – Earl Carroll, American singer (b. 1937)
2012 – Jim Temp, American football player and businessman (b. 1933)
2011 – Coco Robicheaux, American singer-songwriter and guitarist (b. 1947)
2010 – Alfred Balk, American journalist and author (b. 1930)
2010 – Bernard Matthews, English businessman, founded Bernard Matthews Farms (b. 1930)
2010 – C. Scott Littleton, American anthropologist and academic (b. 1933)
2007 – Peter Lipton, American philosopher and academic (b. 1954)
2006 – Kenneth M. Taylor, American lieutenant and pilot (b. 1919)
2006 – Phyllis Fraser, American actress and publisher, co-founded Beginner Books (b. 1916)
2004 – Ed Paschke, American painter and academic (b. 1939)
2001 – Harry Devlin, American painter and illustrator (b. 1918)
1998 – Flip Wilson, American comedian, actor, and screenwriter (b. 1933)
1998 – Nelson Goodman, American philosopher and academic (b. 1906)
1991 – Eleanor Audley, American actress and voice artist (b. 1905)
1989 – Alva R. Fitch, American general (b. 1907)
1987 – Harold Washington, American lawyer and politician, 51st Mayor of Chicago (b. 1922)
1981 – Jack Albertson, American actor and singer (b. 1907)
1972 – Henri Coandă, Romanian engineer, designed the Coandă-1910 (b. 1886)
1968 – Paul Siple, American geographer and explorer (b. 1908)
1968 – Upton Sinclair, American novelist, critic, and essayist (b. 1878)
1949 – Bill Robinson, American actor and dancer (b. 1878)
1948 – Kanbun Uechi, Japanese martial artist, founded Uechi-ryū (b. 1877)
1944 – Kenesaw Mountain Landis, American lawyer and judge (b. 1866)
1920 – Gaston Chevrolet, French-American race car driver and businessman (b. 1892)
1909 – Edward P. Allen, American lawyer and politician (b. 1839)
1885 – Thomas A. Hendricks, American lawyer and politician, 21st Vice President of the United States (b. 1819)
1700 – Stephanus Van Cortlandt, American lawyer and politician, 10th Mayor of New York City (b. 1643)
1626 – Edward Alleyn, English actor, founded Dulwich College (b. 1566)