16 Days Against Violence
16 Days Against Violence is held on November 25. This event in the third decade of the month November is annual.
Help us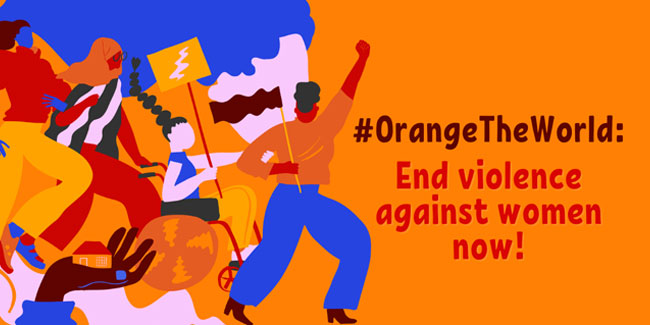 Every year from November 25 to December 10 action "16 days against violence" is carried out around the world to draw attention to the problems of overcoming all forms of violence.
Currently, the most ancient traces of violence that have been found are those resulting from the practice of cannibalism. Marks of disarticulation, emaciation (the stripping of flesh), fracturing and calcination have been observed on Palaeolithic human bones.
1 in 3 women worldwide have experienced physical and/or sexual violence in their lifetime. Globally, as many as 38% of murders of women are committed by a male partner. 200 million women and girls have experienced female genital mutilation/cutting (FGM/C). Each year, 15 million girls are married before the age of 18. Men, children and the elderly are sometimes systematically abused. This must be stopped!
Aggression can happen as a natural response to stress, fear, or a sense of losing control. You might also respond with aggression when you feel frustrated, mistreated, or unheard — especially if you never learned how to manage your emotions effectively.
Similar holidays and events, festivals and interesting facts

Evolution Day on November 24
(International observance);

International Carmenère Day on November 24
(Created in 2014, this festival originally celebrated the 20th anniversary of a grape that was 'lost,' then rediscovered);

World Red Wine Day on November 24
;

Anti Obesity Day on November 26
(International observance);

International Day of the Bible on November 26
(is an initiative from the United States and especially the Association of the Bible who wanted to promote this day from November 24, 2014);

International Laksa Day in Darwin, Australia on November 26
(Last Sunday in November);

The Feast of Christ the King on November 26
(Date for 2023. Celebrated on the last Sunday before Advent. Roman Catholic Church);

World Olive Day on November 26
;

World Day Against the Indiscriminate Use of Agrochemicals on November 26
;

Metal Rocker Woman Day on November 26