Carnival in Grenada
Carnival in Grenada is held on August 12. Starts at the beginning of the second full week of August. The most important holiday is Carnival, which traditionally is celebrated on the weekend culminating on Ash Wednesday. This event in the second decade of the month August is annual.
Help us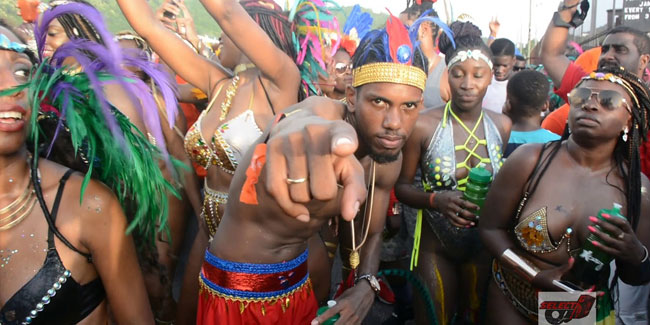 If there is one Carnival you head to this year, make it the Spicemas Carnival in Grenada! Spicemas in Grenada, also known as August Mas, is lively, fun, and more than a little wild. The event, which is held in August, is perfect for those who want to experience the best of Grenadian culture, entertainment, and lifestyle.
Carnival celebrations can be traced back into antiquity, even to Roman times. The very word Carnival probably comes from Latin — carne vale, farewell to the flesh. But the roots of Caribbean Carnival, especially in Grenada, sprang from the colonial French/slave society of Trinidad.
Grenada Carnival is probably the number one cultural event on Grenada's annual events calendar, Spicemas (affectionately named so due to the island's renowned spice production) is not to be missed!
Similar holidays and events, festivals and interesting facts

Emancipation Day in Grenada on August 5
(on the first monday of august);

Kirani Day in Grenada on September 1
(is not a public holiday. Kirani James, born 1 September 1992, is a Grenadian sprinter who specializes in the 200 and 400 metres. He is Grenada's first and only Olympic medalist. He won the 400 m at the World Championships in 2011 and the 2012 London Olympics);

Thanksgiving Day in Grenada on October 25
;

Boxing Day on December 26
(Belgium, Fiji, The Bahamas, Guyana, Trinidad and Tobago, Samoa...);

Grenada Independence Day on February 7
(is celebrates the independence of Grenada from the United Kingdom in 1974);

Grenada Revolution Day on March 13
(In 1979, the socialist New Jewel Movement had overthrown the corrupt and unpopular dictator Eric Gairy in an almost bloodless coup. For years, Gairy ruled through fear.);

Easter in Western Christianity on March 31
(Første påskedag in Norway)