National Day of Greenland and Denmark
National Day of Greenland and Denmark is held on June 21. This event in the third decade of the month June is annual.
Help us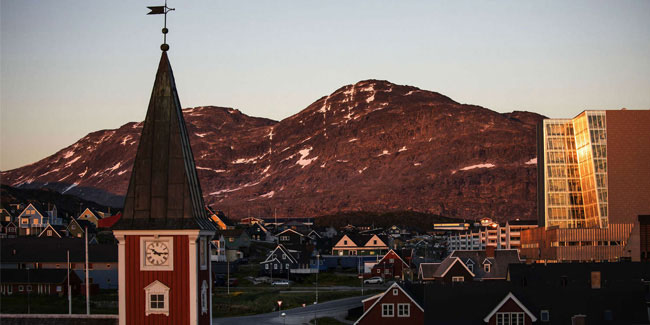 Breathing down each other's necks to show our love.
Greenlandís National Day on 21 June is a national festival in all towns and settlements in Greenland. The National Day was introduced in 1983 as one of the Home Ruleís traditions and is thus one of several expressions of national identity which is also reflected in the flag, clothing, national anthem and language. At each location, celebrations consist of a programme comprising morning songs, speeches, hoisting of the flag, a church service, kaffemik and local entertainment such as music, folk dancing, displays of kayaking skills, etc.
Despite being a democratic dependency, Greenland has gone through a series of referenda in which the citizens of Greenland have voted for more autonomy from Denmark, which ruled Greenland fully from the mid 18th century through to 1979. National Day started in 1983, in part related t the Home Rule agreement. National Day is a celebration of Greenlandic culture and itís people, and an expression of national identity. This was the dawn of a new era of self-government fro Greenland. Itís Greenland, itís June 21st and all bets are off. On this day, every town in Greenland stops and celebrates National Day. This is a time to wear your best, sing your heart out, host/attend a Kaffemik and be with the whole community, all together. This day has a full program all over the country.
Similar holidays and events, festivals and interesting facts

Day of Valdemar and Reunion Day in Denmark on June 15
(Flag Day);

St John's Eve and the first day of the Midsummer celebrations on June 23
(Roman Catholic Church, Europe: - Bonfires of Saint John in Spain; Festa del Poble in Andorra; First night of Festa de São João do Porto; First day of Golowan Festival in Cornwall; Jaaniõhtu in Estonia; Jāņi in Latvia; Kupala Night in Belarus, Lithuania, Poland, Russia, Ukraine; Last day of Drăgaica fair in Buzău, Romania);

Fjordens Dag on July 12
;

Ólavsøka Eve on July 28
(Faroe Islands);

The flag-flying day for Denmark's deployed personnel on September 5
(since 2009);

Fjord Day in Denmark on September 10
;

Mortensaften or Sankt Morten Day in Denmark on November 10