Ólavsøka Eve
Ólavsøka Eve is held on July 28. Faroe Islands. This event in the third decade of the month July is annual.
Help us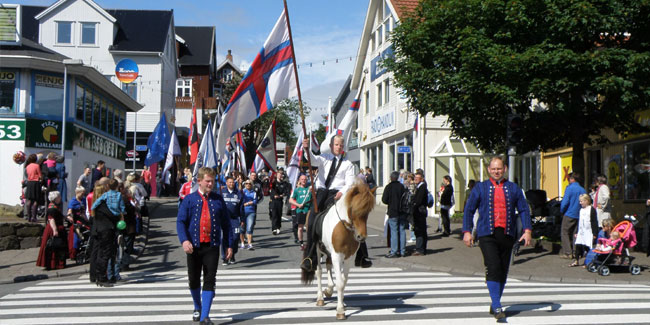 Ólavsøka is a two-day celebration through 28 and 29 of July and many Faroese people crowd into the capital Tórshavn, were Ólavsøka is celebrated. People stroll up and down the streets of Tórshavn, many dressed in the colourful national Faroese dress, greeting friends and acquaintances and partaking in jovial celebrations. The salute for Ólavsøka in Faroese is Góða Ólavsøku!(Good Olaf's Wake!).
The opening of Ólavsøka begins with a procession of athletes from local clubs, Tórshavn city council members, a brass band and horse riders. They walk through the city, down to the town square and end at Tinghúsvøllurin (the House of Parliament Field), were an appointed speaker will give the annual speech that officially opens the Ólavsøka.
Similar holidays and events, festivals and interesting facts

Constitution Day on the Faroe Island on June 5
;

Olsok or St. Olaf's Day on July 29
(King Olaf II Haraldsson of Norway is remembered as Rex perpetuus Norvegiae, the Eternal King of Norway. Olsok is a national day of celebration in the Nordic countries of Norway and the Faroe Islands, and also in the provinces of Härjedalen in Sweden and Savonlinna in Finland);

Grækarismessa in the Faroe Islands on March 12
(celebrated since 1943);

Truant's Day on March 21
(Poland, Faroe Islands);

Flag Day in the Faroe Islands on April 25
;

Motherís Day on May 12
(Anguilla, Antigua and Barbuda, Aruba, Australia, Austria, Bahamas, Bangladesh, Barbados, Belgium, Belize, Bermuda, Bhutan, Bonaire, Botswana, Brazil, Brunei, Canada, Cambodia, Cayman Islands, Central African Republic, Chad, Chile, China, Colombia, Congo, Dem. Rep., Congo, Rep., Cote d'Ivoire, Croatia, Cuba, Curaçao, Cyprus, Czech Republic, Denmark, Dominica, Ecuador, Equatorial Guinea, Estonia, Ethiopia, Faroe Islands, Fiji, Finland, Germany, Gabon, Gambia, Greenland, Ghana, Greece, Grenada, Guyana, Honduras, Hong Kong, Iceland, India, Italy, Jamaica, Japan, Kenya, Latvia, Liberia, Liechtenstein, Macau, Malaysia, Malta, Myanmar, Namibia, Netherlands, New Zealand, Pakistan, Papua New Guinea, Peru, Philippines, Puerto Rico, Saint Kitts and Nevis, Saint Lucia, Saint Vincent and the Grenadines, Samoa, Singapore, Sint Maarten, Slovakia, South Africa, Sri Lanka, Suriname, Switzerland, Taiwan, Tanzania, Tonga, Trinidad and Tobago, Turkey, Uganda, Ukraine, United States, Uruguay, Vietnam, Venezuela, Zambia, Zimbabwe);

Fjordens Dag on July 12
;

The flag-flying day for Denmark's deployed personnel on September 5
(since 2009)