Hari-Kuyō
Hari-Kuyō is held on December 8. Kansai region, Japan. This event in the first decade of the month December is annual.
Help us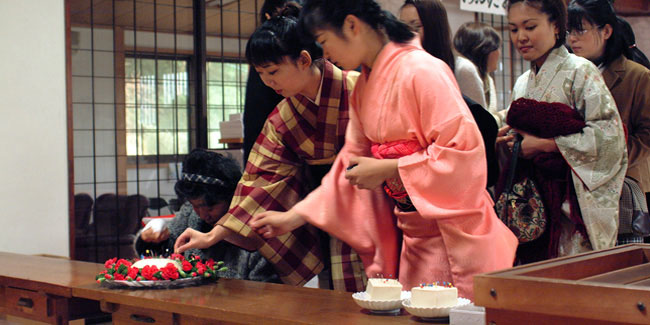 Hari-Kuyō, the Festival of Broken Needles, is a special holiday for seamstresses, who bring bent and broken needles and pins to their local temple so these tools may be thanked for their service and honored. Finally, they are laid to rest in a soft cake of tofu or konnyaku (soft jelly cakes). Needles are piled high on the alters and small kimono and other garments hang nearby as offerings. Many seamstresses also pray for good luck in their sewing endeavors for the year.
This festival is celebrated on February in the Kanto region, this year coinciding with the Lunar NewYear.
Similar holidays and events, festivals and interesting facts

National Day of Remembrance and Action on Violence Against Women in Canada on December 6
;

Mother's Day in Panama on December 8
(Día de la Madre);

Namibian Women's Day on December 10
;

Establishment of Kurdish Women's Union on December 11
(Iraqi Kurdistan);

Mother's Day in Indonesia on December 22
;

Global Family Day on January 1
(is grew out of the UN Millennium Day celebration, which included the distribution of the 1996 children's book One Day at a Time);

Little Christmas in Ireland on January 6