Koran Revelation Day
Koran Revelation Day is held on March 28. Also Nuzul Quraan in Brunei Darussalam. This event in the third decade of the month March is annual.
Help us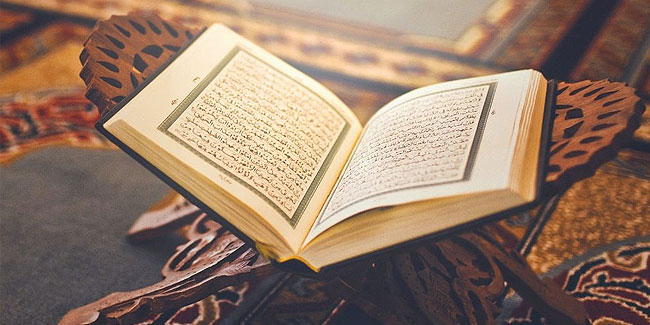 Muhammad's first revelation was an event described in Islamic tradition as taking place in AD 610, during which the Islamic prophet, Muhammad was visited by the angel Jibrīl, known as Gabriel in English, who revealed to him the beginnings of what would later become the Qur'an. The event took place in a cave called Hira, located on the mountain Jabal an-Nour, near Mecca. According to Mubarakpuri, the exact date of this event was Monday, the 21st of Ramadan just before sunrise, i.e. August 10, 610 C.E. – when Muhammad was 40 lunar years, 6 months and 12 days of age, i.e. 39 solar years, 3 months and 22 days.
Similar holidays and events, festivals and interesting facts

National Day in Brunei on February 23
;

Hari Raya Aidil Fitri End of Ramadan in Brunei Darussalam on April 9
(three-day holiday);

Mother's Day on May 12
(Anguilla, Antigua and Barbuda, Aruba, Australia, Austria, Bahamas, Bangladesh, Barbados, Belgium, Belize, Bermuda, Bhutan, Bonaire, Botswana, Brazil, Brunei, Canada, Cambodia, Cayman Islands, Central African Republic, Chad, Chile, China, Colombia, Congo, Dem. Rep., Congo, Rep., Cote d'Ivoire, Croatia, Cuba, Curaçao, Cyprus, Czech Republic, Denmark, Dominica, Ecuador, Equatorial Guinea, Estonia, Ethiopia, Faroe Islands, Fiji, Finland, Germany, Gabon, Gambia, Greenland, Ghana, Greece, Grenada, Guyana, Honduras, Hong Kong, Iceland, India, Italy, Jamaica, Japan, Kenya, Latvia, Liberia, Liechtenstein, Macau, Malaysia, Malta, Myanmar, Namibia, Netherlands, New Zealand, Pakistan, Papua New Guinea, Peru, Philippines, Puerto Rico, Saint Kitts and Nevis, Saint Lucia, Saint Vincent and the Grenadines, Samoa, Singapore, Sint Maarten, Slovakia, South Africa, Sri Lanka, Suriname, Switzerland, Taiwan, Tanzania, Tonga, Trinidad and Tobago, Turkey, Uganda, Ukraine, United States, Uruguay, Vietnam, Venezuela, Zambia, Zimbabwe);

Anniversary of Royal Brunei Malay Regiment on May 31
(Brunei);

The beginning of Gawai Dayak on May 31
(Dayaks in Sarawak, Malaysia and West Kalimantan, Indonesia, Brunei Darussalam);

Kurban Hait or Eid-al-Adha or Kurban-bayram on June 28
(Uzbekistan, Afghanistan, Hari Raya Aidiladha in Brunei);

Sultan's Birthday in Brunei Darussalam on July 15