Saturday 26 September 2020 Calendar with holidays, observances and special days
Saturday 26 September 2020
International Day for the Total Elimination of Nuclear Weapons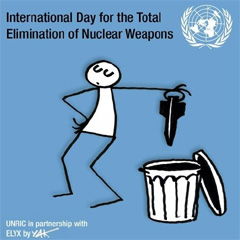 Achieving global nuclear disarmament is one of the oldest goals of the United Nations. It was the subject of the General Assembly's first resolution in 1946. It has been..→
Saturday 26 September 2020
Saturday 26 September 2020
Native American Indian Day in Ohio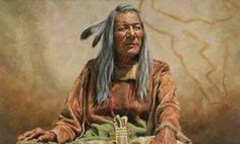 Native Americans began receiving special emphasis in 1987 when the National Park began its first "Native American Indian Day" on September 26. Paralleling Ohio'..→
Saturday 26 September 2020
Holidays and observances
Events
2008 – Swiss pilot and inventor Yves Rossy becomes first person to fly a jet engine-powered wing across the English Channel.
1983 – Soviet nuclear false alarm incident: Military officer Stanislav Petrov identifies a report of an incoming nuclear missile as a computer error and not an American first strike.
1973 – Concorde makes its first non-stop crossing of the Atlantic in record-breaking time.
1969 – Abbey Road, the last recorded album by The Beatles, is released.
1960 – In Chicago, the first televised debate takes place between presidential candidates Richard M. Nixon and John F. Kennedy.
1918 – World War I: The Meuse-Argonne Offensive, the bloodiest single battle in American history, begins.
1914 – The United States Federal Trade Commission (FTC) is established by the Federal Trade Commission Act.
1905 – Albert Einstein publishes his first paper on the special theory of relativity.
1789 – Thomas Jefferson is appointed the first United States Secretary of State, John Jay is appointed the first Chief Justice of the United States, Samuel Osgood is appointed the first United States Postmaster General, and Edmund Randolph is appointed the first United States Attorney General.
1777 – American Revolution: British troops occupy Philadelphia.
Births
2002 – Alex Smith, American football player
1994 – Jack Conger, American swimmer
1993 – Michael Kidd-Gilchrist, American basketball player
1984 – Nev Schulman, American photographer, television host, and producer
1983 – D'Qwell Jackson, American football player
1981 – Christina Milian, American singer-songwriter, dancer, and actress
1981 – Serena Williams, American tennis player
1980 – Brooks Orpik, American ice hockey player
1979 – Jaycie Phelps, American gymnast
1975 – Jake Paltrow, American director and screenwriter
1974 – Gary Hall, Jr., American swimmer
1973 – Julienne Davis, American actress, producer, and screenwriter
1973 – Marty Casey, American singer-songwriter and guitarist
1972 – Ras Kass, American rapper and producer
1972 – Shawn Stockman, American singer
1970 – Sheri Moon Zombie, American actress and fashion designer
1968 – Jim Caviezel, American actor
1967 – Craig Janney, American ice hockey player
1967 – Shannon Hoon, American singer-songwriter and guitarist (d. 1995)
1966 – Craig Heyward, American football player (d. 2006)
1966 – Dean Butterworth, English-American drummer
1964 – Dave Martinez, American baseball player and coach
1964 – John Tempesta, American drummer
1963 – Joe Nemechek, American race car driver
1962 – Al Pitrelli, American guitarist and songwriter
1962 – Melissa Sue Anderson, American-Canadian actress
1961 – Cindy Herron, American singer-songwriter and actress
1960 – Doug Supernaw, American country music singer-songwriter and guitarist
1959 – Rich Gedman, American baseball player and coach
1958 – Darby Crash, American singer-songwriter (d. 1980)
1958 – Richard B. Weldon, Jr., American sailor and politician
1958 – Robert Kagan, Greek-American historian and author
1957 – Bob Staake, American author and illustrator
1957 – Michael Dweck, American photographer and director
1956 – Linda Hamilton, American actress
1956 – Steve Butler, American race car driver and engineer
1955 – Carlene Carter, American singer-songwriter and guitarist
1954 – Cesar Rosas, Mexican-American singer-songwriter and guitarist
1954 – Craig Chaquico, American guitarist
1954 – Kevin Kennedy, American baseball player, manager, and sportscaster
1953 – Douglas A. Melton, American biologist and academic
1949 – Jane Smiley, American novelist
1947 – Dick Roth, American swimmer
1947 – Lynn Anderson, American singer and actress (d. 2015)
1946 – Andrea Dworkin, American activist and author (d. 2005)
1946 – Christine Todd Whitman, American politician, 50th Governor of New Jersey
1946 – Louise Simonson, American author
1944 – Jan Brewer, American politician, 22nd Governor of Arizona
1942 – Gloria E. Anzaldúa, American scholar of Chicana cultural theory (d. 2004)
1942 – Kent McCord, American actor
1941 – David Frizzell, American country music singer-songwriter and guitarist
1937 – Jerry Weintraub, American film producer and agent (d. 2015)
1936 – Leroy Drumm, American sailor and songwriter (d. 2010)
1936 – Winnie Madikizela-Mandela, South African academic and politician, 8th First Lady of South Africa
1935 – Lou Myers, American actor (d. 2013)
1932 – Donna Douglas, American actress (d. 2015)
1932 – Joyce Jameson, American actress (d. 1987)
1931 – Kenneth Parnell, American sex offender (d. 2008)
1930 – Philip Bosco, American actor
1928 – Wilford White, American football player (d. 2013)
1927 – Patrick O'Neal, American actor (d. 1994)
1927 – Robert Cade, American physician and educator, co-invented Gatorade (d. 2007)
1926 – Julie London, American singer and actress (d. 2000)
1925 – Marty Robbins, American singer-songwriter, guitarist, actor, and race car driver (d. 1982)
1925 – Norm Dussault, American-Canadian ice hockey player (d. 2012)
1924 – Jean Hoerni, Swiss physicist, inventor and businessman (d. 1997)
1919 – Barbara Britton, American actress (d. 1980)
1918 – Eric Morley, English businessman and television host, founded the Miss World (d. 2000)
1914 – Jack LaLanne, American fitness expert (d. 2011)
1913 – Dorothy Sloop, American pianist and educator (d. 1998)
1913 – Frank Brimsek, American ice hockey player (d. 1998)
1911 – Al Helfer, American sportscaster (d. 1975)
1909 – A. P. Hamann, American lieutenant, lawyer, and politician (d. 1977)
1909 – Bill France, Sr., American race car driver, founded NASCAR (d. 1992)
1907 – Shug Fisher, American singer-songwriter, musician, actor, and comedian (d. 1984)
1901 – George Raft, American actor, singer, and dancer (d. 1980)
1901 – Ted Weems, American bandleader and musician (d. 1963)
1898 – George Gershwin, American pianist and composer (d. 1937)
1894 – Gladys Brockwell, American actress (d. 1929)
1892 – Robert Staughton Lynd, American sociologist and academic (d. 1970)
1888 – J. Frank Dobie, American journalist and author (d. 1964)
1887 – Antonio Moreno, Spanish-American actor and director (d. 1967)
1887 – Barnes Wallis, English scientist and engineer, invented the Bouncing bomb (d. 1979)
1881 – Hiram Wesley Evans, American Ku Klux Klan leader (d. 1966)
1876 – Edith Abbott, American economist, social worker, and author (d. 1957)
1875 – Edmund Gwenn, English-American actor and singer (d. 1959)
1874 – Lewis Hine, American photographer and activist (d. 1940)
1872 – Max Ehrmann, American poet and lawyer (d. 1945)
1867 – Winsor McCay, American illustrator and animator (d. 1934)
1848 – Henry Walters, American art collector and philanthropist (d. 1931)
1774 – Johnny Appleseed, American gardener and environmentalist (d. 1845)
1711 – Richard Grenville-Temple, 2nd Earl Temple, English politician, First Lord of the Admiralty (d. 1779)
Deaths
2015 – Sidney Phillips, American soldier, physician, and author (b. 1924)
2014 – Gerald Neugebauer, American astronomer and physicist (b. 1932)
2014 – Jim Boeke, American football player and coach (b. 1938)
2014 – Sam Hall, American screenwriter (b. 1921)
2014 – Tamir Sapir, Georgian-American businessman (b. 1946)
2013 – Mario Montez, Puerto Rican-American actor (b. 1935)
2012 – Eugene Genovese, American historian and author (b. 1930)
2012 – M'el Dowd, American actress and singer (b. 1933)
2012 – Sam Steiger, American journalist and politician (b. 1929)
2011 – Bob Cassilly, American sculptor, founded the City Museum (b. 1949)
2010 – Gloria Stuart, American actress (b. 1910)
2008 – Paul Newman, American actor, director, producer, and businessman (b. 1925)
2007 – Bill Wirtz, American businessman (b. 1929)
2006 – Byron Nelson, American golfer and coach (b. 1912)
2006 – Iva Toguri D'Aquino, American wartime propaganda broadcaster (b. 1916)
2003 – Shawn Lane, American guitarist, songwriter, and producer (b. 1963)
2000 – Richard Mulligan, American actor (b. 1932)
1999 – Oseola McCarty, American philanthropist (b. 1908)
1998 – Betty Carter, American singer (b. 1930)
1991 – Billy Vaughn, American singer and bandleader (b. 1919)
1984 – John Facenda, American sportscaster (b. 1913)
1979 – Arthur Hunnicutt, American actor (b. 1910)
1973 – Ralph Earnhardt, American race car driver (b. 1923)
1973 – Samuel Flagg Bemis, American historian and author (b. 1891)
1972 – Charles Correll, American actor and screenwriter (b. 1890)
1957 – Arthur Powell Davies, American minister and author (b. 1902)
1954 – Ellen Roosevelt, American tennis player (b. 1868)
1947 – Hugh Lofting, English-American author and poet (b. 1886)
1946 – William Strunk, Jr., American author and educator (b. 1869)
1937 – Bessie Smith, American singer and actress (b. 1894)
1935 – Andy Adams, American author (b. 1859)
1902 – Levi Strauss, German-American businessman, founded Levi Strauss & Co. (b. 1829)
1820 – Daniel Boone, American hunter and explorer (b. 1734)
1800 – William Billings, American composer and educator (b. 1746)