Friday 14 June 2024 Calendar with holidays, observances and special days
Flag Day and Army Birthday in the United States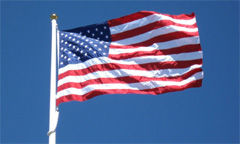 In the United States, Flag Day is celebrated on June 14. It commemorates the adoption of the flag of the United States, which happened on that day in 1777 by resolution o..→
Robert La Follette Sr. Day in Wisconsin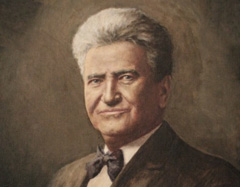 Robert Marion "Fighting Bob" La Follette Sr. (June 14, 1855 – June 18, 1925) is widely regarded as Wisconsin's most distinguished political leader. He served in..→
Calendars
:
Health Calendar
,
US Holidays
,
United Nations Holidays
,
Worldwide Holidays
,
Armenia
,
Food holidays
,
Lithuania
,
Spain
,
United Kingdom
,
Unusual Holidays (Weird and Funny Holidays)
,
Wine holidays
Holidays and observances
Events
1967 – China tests its first hydrogen bomb.
1959 – Disneyland Monorail System, the first daily operating monorail system in the Western Hemisphere, opens to the public in Anaheim, California.
1954 – U.S. President Dwight D. Eisenhower signs a bill into law that places the words "under God" into the United States Pledge of Allegiance.
1949 – Albert II, a rhesus monkey, rides a V-2 rocket to an altitude of 134 km (83 mi), thereby becoming the first monkey in space.
1941 – June deportation: the first major wave of Soviet mass deportations and murder of Estonians, Latvians and Lithuanians, begins.
1940 – Seven hundred twenty-eight Polish political prisoners from Tarnów become the first inmates of the Auschwitz concentration camp.
1937 – Pennsylvania becomes the first (and only) state of the United States to celebrate Flag Day officially as a state holiday.
1919 – John Alcock and Arthur Whitten Brown depart from St. John's, Newfoundland on the first nonstop transatlantic flight.
1900 – Hawaii becomes a United States territory.
1863 – American Civil War: Second Battle of Winchester: A Union garrison is defeated by the Army of Northern Virginia in the Shenandoah Valley town of Winchester, Virginia.
1863 – Second Assault on the Confederate works at the Siege of Port Hudson during the American Civil War.
1839 – Henley Royal Regatta: the village of Henley-on-Thames, on the River Thames in Oxfordshire, stages its first regatta.
1800 – The French Army of First Consul Napoleon Bonaparte defeats the Austrians at the Battle of Marengo in Northern Italy and re-conquers Italy.
1777 – The Stars and Stripes is adopted by Congress as the Flag of the United States.
1775 – American Revolutionary War: the Continental Army is established by the Continental Congress, marking the birth of the United States Army.
1618 – Joris Veseler prints the first Dutch newspaper Courante uyt Italien, Duytslandt, &c. in Amsterdam (approximate date).
1216 – First Barons' War: Prince Louis of France captures the city of Winchester and soon conquers over half of the Kingdom of England.
1158 – Munich is founded by Henry the Lion on the banks of the river Isar.
Births
1993 – Sammy Watkins, American football player. Samuel Benjamin Watkins IV (born June 14, 1993) is an American football wide receiver for the Kansas City Chiefs of the National Football League (NFL).
1992 – Joel Crouse, American singer-songwriter. He released his first album Even the River Runs on August 19, 2014.
1989 – Lucy Hale, American actress and singer-songwriter. She is best known for her role as Aria Montgomery on the Freeform series Pretty Little Liars (2010–2017).
1984 – Lorenzo Booker, American football player. He played college football at Florida State.
1978 – Annia Hatch, Cuban-American gymnast and coach. Annia Portuondo Hatch (born June 14, 1978, in Guantánamo, Cuba) is a Cuban-American artistic gymnast who competed for the United States at the 2004 Summer Olympics.
1978 – Diablo Cody, American director, producer, and screenwriter. She became known for her candid blog and subsequent memoir, Candy Girl: A Year in the Life of an Unlikely Stripper (2005), Cody achieved critical acclaim for her debut feature film script, Juno (2007), winning the Academy Award for Best Original Screenplay, the BAFTA Award for Best Original Screenplay, the Independent Spirit Award for Best First Screenplay, and the Writers Guild of America Award for Best Original Screenplay.
1977 – Chris McAlister, American football player, was a cornerback in the National Football League (NFL) for eleven seasons. He played college football for the University of Arizona, and was recognized as an All-American.
1973 – Sami Kapanen, Finnish-American ice hockey player and manager. He played 12 NHL seasons for the Hartford Whalers, Carolina Hurricanes and Philadelphia Flyers.
1972 – Matthias Ettrich, German computer scientist and engineer, founded KDE. Matthias Ettrich (born 14 June 1972 in Bietigheim-Bissingen, Baden-Württemberg) is a German computer scientist and founder of the KDE and LyX projects.
1972 – Rick Brunson, American basketball player and coach, was last an assistant coach of the National Basketball Association (NBA). He played 9 seasons in the National Basketball Association (NBA) and has also worked as an assistant coach for several teams.
1971 – Bruce Bowen, American basketball player and sportscaster. He went on to play for the National Basketball Association's Miami Heat, Boston Celtics, Philadelphia 76ers, San Antonio Spurs and the Continental Basketball Association's Rockford Lightning, and also played abroad in France.
1970 – Heather McDonald, American comedian, actress, and author. She was one of the eight writers on the show and often participated in sketches and segments.
1968 – Faizon Love, Cuban-American actor and screenwriter. Also, he is known for his role as Wendell Wilcox on The Parent 'Hood from 1995-1998 and Maurice Starr on BET's The New Edition Story.
1967 – Dedrick Dodge, American football player and coach. He played in Super Bowl XXIX for the San Francisco 49ers and in Super Bowl XXXII for the Denver Broncos.
1961 – Sam Perkins, American basketball player. Perkins played professionally in the National Basketball Association (NBA) for 17 seasons.
1960 – Mike Laga, American baseball player. Michael Russell Laga (born June 14, 1960) is a former professional baseball player for the Detroit Tigers, St.
1960 – Tonie Campbell, American hurdler. A three-time winner of the 110 metres hurdles at the IAAF Grand Prix Final, he also won the 1987 Overall Grand Prix title, with fellow hurdler Greg Foster second and pole vaulter Sergey Bubka third.
1959 – Marcus Miller, American bass player, composer, and producer. Marcus Miller (born William Henry Marcus Miller Jr.; June 14, 1959) is an American jazz composer, producer and multi-instrumentalist, best known as a bass guitarist.
1958 – Pamela Geller, American activist and blogger. Pamela Geller (born 1957/1958) is an American political activist, blogger and commentator who is known for her anti-Muslim views and activism.
1957 – Mona Simpson, American novelist. She has written six novels and studied English at the University of California, Berkeley and Languages and Literature at Bard College.
1957 – Suzanne Nora Johnson, American lawyer and businesswoman. Until 2007, she was vice chairman of Goldman Sachs, chair of the Global Markets Institute, head of the firm's Global Investment Research Division, and a member of the firm's management committee.
1956 – Fred Funk, American golfer and coach. Frederick Funk (born June 14, 1956) is an American professional golfer who plays on the PGA Tour and PGA Tour Champions.
1955 – Michael D. Duvall, American businessman and politician. Michael Dobbins Duvall (born June 14, 1955) is a Republican politician and a former member of the California State Assembly.
1954 – Will Patton, American actor. He also appeared in films such as Remember the Titans, Armageddon, Gone in 60 Seconds and The Punisher.
1952 – Leon Wieseltier, American philosopher, journalist, and critic. From 1983 to 2014, he was the literary editor of The New Republic.
1952 – Pat Summitt, American basketball player and coach (d. 2016), was an American women's college basketball head coach who accrued 1,098 career wins, the most in college basketball history upon her retirement. She served as the head coach of the University of Tennessee Lady Vols basketball team from 1974 to 2012, before retiring at age 59 after receiving a diagnosis of early-onset Alzheimer's disease.
1951 – Danny Edwards, American golfer. Danny Edwards (born June 14, 1951) is an American professional golfer who has played on the PGA Tour, Nationwide Tour and Champions Tour.
1949 – Harry Turtledove, American historian and author. Harry Norman Turtledove (born June 14, 1949) is an American novelist, best known for his work in the genres of alternate history, historical fiction, fantasy, and science fiction and mystery.
1948 – Laurence Yep, American author and playwright. Laurence Michael Yep (simplified Chinese: 叶祥添; traditional Chinese: 葉祥添; pinyin: Yè Xiángtiān; born June 14, 1948) is a prolific Chinese-American writer, best known for children's books.
1947 – Barry Melton, American singer-songwriter and guitarist. Barry "The Fish" Melton (born June 14, 1947) is the co-founder and original lead guitarist of Country Joe and the Fish and The Dinosaurs.
1946 – Donald Trump, American businessman, television personality and 45th President of the United States. Before entering politics, he was a businessman and television personality.
1945 – Richard Stebbins, American sprinter and educator. Richard Vaughn "Dick" Stebbins (born June 14, 1945) is an American former athlete, winner of gold medal in 4 × 100 m relay at the 1964 Summer Olympics.
1944 – Laurie Colwin, American novelist and short story writer (d. 1992), was an American writer who wrote five novels, three collections of short stories and two volumes of essays and recipes. She was known for her portrayals of New York society and her food columns in Gourmet magazine.
1939 – Steny Hoyer, American lawyer and politician. A Democrat, he was first elected in a special election on May 19, 1981, and is currently serving in his 20th term.
1938 – Julie Felix, American-English singer-songwriter and guitarist. Julie Ann Felix (born 14 June 1938) is an American born, British-based folk recording artist who achieved success in the late 1960s and early 1970s.
1936 – Renaldo Benson, American singer-songwriter (d. 2005), was an American soul and R&B singer and songwriter. He was best known as a founding member and the bass singer of Motown group the Four Tops, which he joined in 1953 and continued to perform with for over five decades, until April 8, 2005.
1933 – Jerzy Kosiński, Polish-American novelist and screenwriter (d. 1991), was a Polish-American novelist and two-time President of the American Chapter of P.E.N., who wrote primarily in English. Born in Poland, he survived World War II and, as a young man, immigrated to the U.S., where he became a citizen.
1932 – Joe Arpaio, American police officer and sheriff. He served as the 36th Sheriff of Maricopa County, Arizona for 24 years, from 1993 to 2017, losing reelection to Democrat Paul Penzone in 2016.
1931 – Junior Walker, American saxophonist (d. 1995), was an American saxophonist and vocalist who recorded for Motown during the 1960s.
1931 – Marla Gibbs, American actress and comedian. Marla Gibbs (born Margaret Theresa Bradley; June 14, 1931) is an American actress, comedian, singer, writer and television producer, whose career spans five decades.
1929 – Cy Coleman, American pianist and composer (d. 2004), was an American composer, songwriter, and jazz pianist.
1926 – Don Newcombe, American baseball player. Donald Newcombe (June 14, 1926 – February 19, 2019), nicknamed "Newk", was an American professional baseball pitcher in Negro league and Major League Baseball who played for the Newark Eagles (1944–45), Brooklyn/Los Angeles Dodgers (1949–1951 and 1954–58), Cincinnati Reds (1958–1960), and Cleveland Indians (1960).
1925 – Pierre Salinger, American journalist and politician, 11th White House Press Secretary (d. 2004), was an American journalist, author and politician. He had served as the seventh White House Press Secretary for United States Presidents John F.
1923 – Green Wix Unthank, American soldier, lawyer, and judge (d. 2013), was a United States District Judge of the United States District Court for the Eastern District of Kentucky.
1921 – Martha Greenhouse, American actress (d. 2013), was an American stage, film and television actress, who also served as an actors' union leader.
1919 – Gene Barry, American actor (d. 2009), was an American stage, screen, and television actor. Barry is best remembered for his leading roles in the films The Atomic City (1952) and The War of The Worlds (1953) and for his portrayal of the title characters in the TV series Bat Masterson and Burke's Law, among many roles.
1919 – Sam Wanamaker, American actor and director (d. 1993), was an American actor and director who moved to the UK, after becoming fearful of being blacklisted in Hollywood due to his communist sympathies. He is credited as the person most responsible for saving The Rose Theatre (1988+), which led to the modern recreation of Shakespeare's Globe Theatre in London, where he is commemorated in the name of the Sam Wanamaker Playhouse, the site's second theatre.
1917 – Atle Selberg, Norwegian-American mathematician and academic (d. 2007), was a Norwegian mathematician known for his work in analytic number theory and the theory of automorphic forms, and in particular for bringing them into relation with spectral theory. He was awarded the Fields Medal in 1950.
1916 – Dorothy McGuire, American actress (d. 2001). She was nominated for the Academy Award for Best Actress for Gentleman's Agreement (1947) and won the National Board of Review Award for Best Actress for Friendly Persuasion (1956).
1909 – Burl Ives, American actor and singer (d. 1995), was an American singer and actor of stage, screen, radio and television.
1905 – Steve Broidy, American businessman (d. 1991), was an American executive in the U.S. motion picture industry.
1904 – Margaret Bourke-White, American photographer and journalist (d. 1971), was an American photographer and documentary photographer. She is best known as the first foreign photographer permitted to take pictures of Soviet industry under the Soviet's five-year plan, the first American female war photojournalist, and having one of her photographs (the construction of Fort Peck Dam) on the cover of the first issue of Life magazine.
1903 – Alonzo Church, American mathematician and logician (d. 1995), was an American mathematician and logician who made major contributions to mathematical logic and the foundations of theoretical computer science. He is best known for the lambda calculus, Church–Turing thesis, proving the undecidability of the Entscheidungsproblem, Frege–Church ontology, and the Church–Rosser theorem.
1903 – Rose Rand, Austrian-American logician and philosopher from the Vienna Circle (d. 1980). She was a member of the Vienna Circle.
1900 – Ruth Nanda Anshen, American writer, editor, and philosopher (d. 2003), was an American philosopher, author and editor. She was the author of several books including The Anatomy of Evil, Biography of An Idea, Morals Equals Manners and The Mystery of Consciousness: A Prescription for Human Survival.
1895 – Jack Adams, Canadian-American ice hockey player, coach, and manager (d. 1968), was a Canadian professional ice hockey player, coach and general manager in the National Hockey League and Pacific Coast Hockey Association. He was a Hall of Fame player during a 10-year professional career with Toronto, Vancouver and Ottawa.
1890 – May Allison, American actress (d. 1989), was an American actress whose greatest success was achieved in the early part of the 20th century in the medium of silent film, although she also appeared on stage.
1879 – Arthur Duffey, American sprinter and coach (d. 1955), was an American track and field athlete who competed at the 1900 Summer Olympics in Paris, France.
1855 – Robert M. La Follette Sr., American lawyer and politician, 20th Governor of Wisconsin (d. 1925). He represented Wisconsin in both chambers of Congress and served as the Governor of Wisconsin.
1840 – William F. Nast, American businessman (d. 1893), was an American diplomat and entrepreneur. He was the third president of the Atchison, Topeka and Santa Fe Railway.
1819 – Henry Gardner, American merchant and politician, 23rd Governor of Massachusetts (d. 1892), was the 23rd Governor of Massachusetts, serving from 1855 to 1858. Gardner, a Know Nothing, was elected governor as part of the sweeping victory of Know Nothing candidates in the Massachusetts elections of 1854.
1812 – Fernando Wood, American merchant and politician, 73rd Mayor of New York City (d. 1881), was an American politician of the Democratic Party and the 73rd and 75th mayor of New York City; he also served as a United States Representative (1841–1843, 1863–1865, and 1867–1881) and as Chairman of the Committee on Ways and Means in both the 45th and 46th Congress (1877–1881).
1811 – Harriet Beecher Stowe, American author and activist (d. 1896), was an American abolitionist and author. She came from the Beecher family, a famous religious family, and is best known for her novel Uncle Tom's Cabin (1852), which depicts the harsh conditions for enslaved African Americans.
1801 – Heber C. Kimball, American religious leader (d. 1868), was a leader in the early Latter Day Saint movement. He served as one of the original twelve apostles in the early Church of the Latter Day Saints, and as first counselor to Brigham Young in the First Presidency of The Church of Jesus Christ of Latter-day Saints (LDS Church) for more than two decades, from 1847 until his death.
Deaths
2016 – Ann Morgan Guilbert, American actress and singer (b. 1928)
2015 – Anne Nicol Gaylor, American activist, co-founded the Freedom From Religion Foundation (b. 1926)
2014 – James E. Rogers, American lawyer, businessman, and academic (b. 1938)
2013 – Elroy Schwartz, American screenwriter and producer (b. 1923)
2012 – Bob Chappuis, American football player and soldier (b. 1923)
2012 – Margie Hyams, American pianist and vibraphone player (b. 1920)
2009 – Bob Bogle, American musician (The Ventures) (b. 1934)
2007 – Robin Olds, American general and pilot (b. 1922)
2007 – Ruth Graham, Chinese-American author, poet, and painter (b. 1920)
2003 – Dale Whittington, American race car driver (b. 1959)
2002 – June Jordan, American author and activist (b. 1936)
1999 – Bernie Faloney, American-Canadian football player and sportscaster (b. 1932)
1997 – Richard Jaeckel, American actor (b. 1926)
1995 – Roger Zelazny, American author and poet (b. 1937)
1994 – Henry Mancini, American composer and conductor (b. 1924)
1986 – Alan Jay Lerner, American composer and songwriter (b. 1918)
1977 – Robert Middleton, American actor (b. 1911)
1953 – Tom Cole, Welsh-American racing driver (b. 1922)
1936 – Hans Poelzig, German architect, painter, and designer, designed the IG Farben Building (b. 1869)
1932 – Dorimène Roy Desjardins, Canadian businesswoman, co-founded Desjardins Group (b. 1858)
1926 – Mary Cassatt, American-French painter (b. 1843)
1914 – Adlai Stevenson I, American lawyer and politician, 23rd Vice President of the United States (b. 1835)
1907 – William Le Baron Jenney, American architect and engineer, designed the Home Insurance Building (b. 1832)
1864 – Leonidas Polk, American general and bishop (b. 1806)
1825 – Pierre Charles L'Enfant, French-American architect and engineer, designed Washington, D.C. (b. 1754)
1801 – Benedict Arnold, American general during the American Revolution later turned British spy (b. 1741)
1662 – Henry Vane the Younger, English-American politician, Governor of the Massachusetts Bay Colony (b. 1613)