Sunday 28 April 2024 Calendar with holidays, observances and special days
Days of Remembrance of the Victims of the Holocaust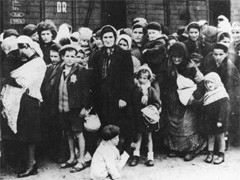 The Days of Remembrance of the Victims of the Holocaust (DRVH) is an annual 8-day period designated by the United States Congress for civic commemorations and special edu..→
Calendars
:
Health Calendar
,
US Holidays
,
United Nations Holidays
,
Worldwide Holidays
,
Afghanistan
,
Argentina
,
Barbados
,
Canada
,
Career Holidays (Recognition Holidays)
,
Food holidays
,
India
,
Italy
,
Japan
,
Smart events
,
Unusual Holidays (Weird and Funny Holidays)
Holidays and observances
Events
In 2019 - Victor Vescovo achieves the deepest dive of any human in history, as he reaches Challenger Deep within the Mariana Trench, at a depth of 10,928 m (35,853 ft).
1986 – The United States Navy aircraft carrier USS Enterprise becomes the first nuclear-powered aircraft carrier to transit the Suez Canal, navigating from the Red Sea to the Mediterranean Sea to relieve the USS Coral Sea.
1970 – Vietnam War: U.S. President Richard Nixon formally authorizes American combat troops to fight communist sanctuaries in Cambodia.
1967 – Vietnam War: Boxer Muhammad Ali refuses his induction into the United States Army and is subsequently stripped of his championship and license.
1965 – United States occupation of the Dominican Republic: American troops land in the Dominican Republic to "forestall establishment of a Communist dictatorship" and to evacuate U.S. Army troops.
1952 – Occupied Japan by the Supreme Commander for the Allied Powers: The United States occupation of Japan ends as the Treaty of San Francisco, ratified September 8, 1951, comes into force.
1949 – The Hukbalahap are accused of assassinating former First Lady of the Philippines Aurora Quezon, while she is en route to dedicate a hospital in memory of her late husband; her daughter and ten others are also killed.
1948 – Igor Stravinsky conducted the premier of his American ballet, Orpheus at the New York City Center.
1941 – The Ustaše massacre nearly 200 Serbs in the village of Gudovac, the first massacre of their genocidal campaign against Serbs of the Independent State of Croatia.
1930 – The Independence Producers hosted the first night game in the history of Organized Baseball in Independence, Kansas.
1910 – Frenchman Louis Paulhan wins the 1910 London to Manchester air race, the first long-distance aeroplane race in England.
1887 – A week after being arrested by the Prussian Secret Police, French police inspector Guillaume Schnaebelé is released on order of William I, German Emperor, defusing a possible war.
1869 – Chinese and Irish laborers for the Central Pacific Railroad working on the First Transcontinental Railroad lay ten miles of track in one day, a feat which has never been matched.
1788 – Maryland becomes the seventh state to ratify the United States Constitution.
1503 – The Battle of Cerignola is fought. It is noted as the first battle in history won by small arms fire using gunpowder.
1253 – Nichiren, a Japanese Buddhist monk, propounds Namu Myōhō Renge Kyō for the very first time and declares it to be the essence of Buddhism, in effect founding Nichiren Buddhism.
357 – Emperor Constantius II enters Rome for the first time to celebrate his victory over Magnus Magnentius.
Births
1995 – Melanie Martinez, American singer. Following the show, she released her debut single titled "Dollhouse".
1986 – Jenna Ushkowitz, Korean-American actress, singer, and dancer. She is known for her performances in Broadway musicals such as The King and I and Waitress; and in the role of Tina Cohen-Chang on the Fox comedy-drama series Glee.
1983 – David Freese, American baseball player. David Richard Freese (born April 28, 1983) is an American former professional baseball corner infielder in Major League Baseball (MLB).
1982 – Chris Kaman, American basketball player. He was selected sixth overall in the first round of the 2003 NBA draft by the Los Angeles Clippers, after a college basketball career at Central Michigan University.
1981 – Jessica Alba, American model and actress. She began her television and movie appearances at age 13 in Camp Nowhere and The Secret World of Alex Mack (1994), but rose to prominence at 19, as the lead actress of the television series Dark Angel (2000–2002), for which she received a Golden Globe nomination.
1979 – Scott Fujita, American football player and sportscaster. Scott Anthony Fujita (/fuːˈdʒiːtə/; born April 28, 1979) is a former American football linebacker in the National Football League (NFL), and current Head of School at All Saints' Day School.
1978 – Nate Richert, American actor. Nathaniel Eric "Nate" Richert (born April 28, 1978) is an American former actor.
1973 – Earl Holmes, American football player and coach. He was drafted by the Pittsburgh Steelers in the 4th round of the 1996 NFL Draft 126th overall out of Florida A&M University.
1973 – Jorge Garcia, American actor and producer. Garcia performs as a stand-up comedian.
1972 – Violent J, American rapper, Insane Clown Posse. Joseph Francis Bruce (born April 28, 1972), known by his stage name Violent J, is an American rapper, record producer, professional wrestler, and part of the hip hop duo Insane Clown Posse.
1966 – Too Short, American rapper, producer and actor. He is best known for his hit songs, such as "The Ghetto" and "Blow the Whistle".
1965 – Jennifer Rardin, American author (d. 2010), was an American urban fantasy author, known for writing the Jaz Parks series.
1964 – Barry Larkin, American baseball player, manager, and sportscaster. Barry Louis Larkin (born April 28, 1964) is a retired Major League Baseball (MLB) player who played shortstop for the Cincinnati Reds from 1986 to 2004.
1964 – L'Wren Scott, American model and fashion designer (d. 2014), was an American stylist and fashion designer.
1960 – Elena Kagan, American lawyer and jurist, Associate Justice of the Supreme Court of the United States. She is the fourth woman to serve as a Justice of the Supreme Court.
1960 – Tom Browning, American baseball player. He is also co-author of Tom Browning's Tales from the Reds Dugout.
1958 – Hal Sutton, American golfer. Hal Evan Sutton (born April 28, 1958) is an American professional golfer, currently playing on the PGA Tour Champions, who achieved 14 victories on the PGA Tour, including a major championship, the 1983 PGA Championship, and the 1983 Tournament Players Championship.
1954 – Michael P. Jackson, American politician, 3rd Deputy Secretary of Homeland Security, was the George W. Bush administration's Deputy Secretary of the Department of Homeland Security, beginning in March 2005 and ending with his resignation in October 2007.
1954 – Ron Zook, American football player and coach. Ronald Andrew Zook (/zʊk/; born April 28, 1954) is an American football coach and former player who currently serves as a senior analyst for the University of Maryland.
1954 – Timothy Curley, American educator. Curley (born April 28, 1954) is a former athletic director for Penn State University.
1953 – Kim Gordon, American singer-songwriter, guitarist, and producer. Kim Althea Gordon (born April 28, 1953) is an American musician, singer, songwriter and bassist, guitarist, and vocalist in the alternative rock band Sonic Youth.
1952 – Chuck Leavell, American singer-songwriter and keyboard player. Charles Alfred Leavell (born April 28, 1952) is an American musician.
1952 – Mary McDonnell, American actress. McDonnell is well known for her performances as President Laura Roslin in Battlestar Galactica (for which she won a Saturn Award), First Lady Marilyn Whitmore in Independence Day, and Rose in Donnie Darko.
1950 – Jay Leno, American comedian, talk show host, and producer. James Douglas Muir Leno (/ˈlɛnoʊ/; born April 28, 1950) is an American comedian, actor, writer, producer, and former late-night television host.
1950 – Willie Colón, Puerto Rican-American trombonist and producer. William Anthony Colón Román (born April 28, 1950) is an American salsa musician and social activist.
1949 – Bruno Kirby, American actor and director (d. 2006), was an American actor, singer, voice artist, and comedian. He was known for his roles in City Slickers, When Harry Met Sally..., Good Morning, Vietnam, The Godfather Part II, and Donnie Brasco.
1949 – Paul Guilfoyle, American actor. He was a regular cast member of the CBS police drama CSI: Crime Scene Investigation where he played Captain Jim Brass from 2000 to 2014 and returned for the series finale, "Immortality", in 2015.
1948 – Marcia Strassman, American actress and singer (d. 2014), was an American actress and singer, best known for her roles as Nurse Margie Cutler on M*A*S*H, as Julie Kotter on Welcome Back, Kotter, and as Diane Szalinski in the film Honey, I Shrunk the Kids (1989).
1946 – Larissa Grunig, American theorist and activist. She began her professional career as a public school teacher.
1944 – Alice Waters, American chef and author. She is the owner of Chez Panisse, a Berkeley, California restaurant famous for its organic, locally grown ingredients and for pioneering California cuisine, which she opened in 1971.
1944 – Elizabeth LeCompte, American director and producer. A founding member of The Wooster Group, she has directed that ensemble since its emergence in the late 1970s.
1941 – Ann-Margret, Swedish-American actress, singer, and dancer. Ann-Margret Olsson (born April 28, 1941), known mononymously as Ann-Margret, is a Swedish-American actress, singer, and dancer.
1941 – Karl Barry Sharpless, American chemist and academic, Nobel Prize laureate. Karl Barry Sharpless (born April 28, 1941) is an American chemist and Nobel Laureate known for his work on stereoselective reactions and Click Chemistry.
1938 – Madge Sinclair, Jamaican-American actress (d. 1995), was a Jamaican-born American actress, best known for her roles in Cornbread, Earl and Me (1975), Coming to America (1988), Trapper John, M.D. (1980–1986), and the ABC TV miniseries Roots (1977). Sinclair also voiced the character of Sarabi, Mufasa's wife and Simba's mother, in the Disney animated feature film The Lion King (1994).
1934 – Lois Duncan, American journalist and author (d. 2016), was an American writer, novelist, poet, and journalist. She is best known for her young-adult novels, and has been credited by historians as a pioneering figure in the development of young adult fiction, particularly in the genres of horror, thriller, and suspense.
1933 – Miodrag Radulovacki, Serbian-American neuropharmacologist and academic (d. 2014), was a Serbian American scientist and inventor. He was Professor of Pharmacology in the College of Medicine at the University of Illinois at Chicago (UIC), Radulovacki's research accomplishments include: (1) the Adenosine Sleep Theory, and (2) pioneering pharmacological studies for the treatment of sleep apnea, together with research collaborator, David W.
1930 – Carolyn Jones, American actress (d. 1983), was an American actress of television and film. Jones began her film career in the early 1950s, and by the end of the decade had achieved recognition with a nomination for an Academy Award for Best Supporting Actress for The Bachelor Party (1957) and a Golden Globe Award as one of the most promising actresses of 1959.
1930 – James Baker, American lawyer and politician, 61st United States Secretary of State. Secretary of State and White House Chief of Staff under President George H.
1928 – Eugene Merle Shoemaker, American geologist and astronomer (d. 1997), was an American geologist and one of the founders of the field of planetary science. He is best known for co-discovering the Comet Shoemaker–Levy 9 with his wife Carolyn S.
1926 – Bill Blackbeard, American historian and author (d. 2011), was a writer-editor and the founder-director of the San Francisco Academy of Comic Art, a comprehensive collection of comic strips and cartoon art from American newspapers. This major collection, consisting of 2.5 million clippings, tearsheets and comic sections, spanning the years 1894 to 1996, has provided source material for numerous books and articles by Blackbeard and other researchers.
1926 – Harper Lee, American novelist (d. 2016), was an American novelist best known for her 1960 novel To Kill a Mockingbird. It won the 1961 Pulitzer Prize and has become a classic of modern American literature.
1926 – James Bama, American artist and illustrator. James Elliott Bama (born April 28, 1926) is an American artist known for his realistic paintings and etchings of Western subjects.
1925 – T. John Lesinski, American judge and politician, 51st Lieutenant Governor of Michigan (d. 1996). John" Lesinski, (April 28, 1925 – August 13, 1996), was an American politician and judge from the U.S. state of Michigan.
1924 – Blossom Dearie, American singer and pianist (d. 2009), was an American jazz singer and pianist. She was physically petite, with a recognizably light and girlish voice.
1924 – Dick Ayers, American author and illustrator (d. 2014), was an American comic book artist and cartoonist best known for his work as one of Jack Kirby's inkers during the late-1950s and 1960s period known as the Silver Age of Comics, including on some of the earliest issues of Marvel Comics' The Fantastic Four. He is the signature penciler of Marvel's World War II comic Sgt.
1923 – Carolyn Cassady, American author (d. 2013), was an American writer and associated with the Beat Generation through her marriage to Neal Cassady and her friendships with Jack Kerouac, Allen Ginsberg, and other prominent Beat figures. She became a frequent character in the works of Jack Kerouac.
1923 – William Guarnere, American sergeant (d. 2014). Guarnere (April 28, 1923 – March 8, 2014) was a United States Army soldier who fought in World War II as a non-commissioned officer with Easy Company, 2nd Battalion, 506th Parachute Infantry Regiment, in the U.S.
1921 – Rowland Evans, American soldier, journalist, and author (d. 2001), was an American journalist. He was known best for his decades-long syndicated column and television partnership with Robert Novak, a partnership that endured, if only by way of a joint subscription newsletter, until Evans's death.
1913 – Rose Murphy, American singer (d. 1989), was an American jazz singer famous for the song "Busy Line" and unique singing style.
1911 – Lee Falk, American director, producer, and playwright (d. 1999), was an American writer, theater director and producer, best known as the creator of the popular comic strips Mandrake the Magician (1934–2013) and The Phantom (1936–present). At the height of their popularity, these strips attracted over 100 million readers every day.
1910 – Sam Merwin, Jr., American author (d. 1996), was an American mystery fiction writer, editor and science fiction author. His pseudonyms included Elizabeth Deare Bennett, Matt Lee, Jacques Jean Ferrat and Carter Sprague.
1909 – Arthur Võõbus, Estonian-American theologist and orientalist (d. 1988), was an Estonian theologian, orientalist, and church historian.
1908 – Ethel Catherwood, American-Canadian high jumper and javelin thrower (d. 1987), was a Canadian athlete.
1906 – Kurt Gödel, Czech-American mathematician, philosopher, and academic (d. 1978), was an Austro-Hungarian-born Austrian logician, mathematician, and analytic philosopher. Considered along with Aristotle and Gottlob Frege to be one of the most significant logicians in history, Gödel had an immense effect upon scientific and philosophical thinking in the 20th century, a time when others such as Bertrand Russell, Alfred North Whitehead, and David Hilbert were analyzing the use of logic and set theory to understand the foundations of mathematics pioneered by Georg Cantor.
1886 – Art Shaw, American hurdler (d. 1955), was an American athlete and member of the Irish American Athletic Club. He won the bronze medal in the men's 110 metres hurdles race at the 1908 Summer Olympics in London.
1878 – Lionel Barrymore, American actor and director (d. 1954), was an American actor of stage, screen and radio as well as a film director. He won an Academy Award for Best Actor for his performance in A Free Soul (1931), and remains best known to modern audiences for the role of villainous Mr.
1874 – Sidney Toler, American actor and director (d. 1947). The second European-American actor to play the role of Charlie Chan on screen, he is best remembered for his portrayal of the Chinese-American detective in 22 films made between 1938 and 1946.
1865 – Charles W. Woodworth, American entomologist and academic (d. 1940). He published extensively in entomology and founded the Entomology Department at the University of California, Berkeley.
1819 – Ezra Abbot, American scholar and academic (d. 1884), was an American biblical scholar.
1758 – James Monroe, American soldier, lawyer, and politician, 5th President of the United States (d. 1831), was an American statesman, lawyer, diplomat and Founding Father who served as the fifth president of the United States from 1817 to 1825. A member of the Democratic-Republican Party, Monroe was the last president of the Virginia dynasty; his presidency coincided with the Era of Good Feelings.
Deaths
2017 – Mariano Gagnon, American Catholic priest and author (b. 1929)
2015 – Marcia Brown, American author and illustrator (b. 1918)
2015 – Michael J. Ingelido, American general (b. 1916)
2014 – Dennis Kamakahi, American guitarist and composer (b. 1953)
2014 – Frederic Schwartz, American architect, co-designed Empty Sky (b. 1951)
2014 – Jack Ramsay, American basketball player, coach, and sportscaster (b. 1925)
2014 – William Honan, American journalist and author (b. 1930)
2013 – Brad Lesley, American baseball player (b. 1958)
2013 – Fredrick McKissack, American author (b. 1939)
2013 – János Starker, Hungarian-American cellist and educator (b. 1924)
2013 – John C. Reynolds, American computer scientist and academic (b. 1935)
2012 – Al Ecuyer, American football player (b. 1937)
2007 – Dabbs Greer, American actor (b. 1917)
2007 – Tommy Newsom, American saxophonist and bandleader (b. 1929)
2006 – Steve Howe, American baseball player (b. 1958)
2005 – Percy Heath, American bassist (b. 1923)
2002 – Lou Thesz, American wrestler and trainer (b. 1916)
1999 – Arthur Leonard Schawlow, American physicist and academic, Nobel Prize laureate (b. 1921)
1999 – Rolf Landauer, German-American physicist and engineer (b. 1927)
1999 – Rory Calhoun, American actor, producer, and screenwriter (b. 1922)
1998 – Jerome Bixby, American author and screenwriter (b. 1923)
1997 – Ann Petry, American novelist (b. 1908)
1996 – Lester Sumrall, American minister, founded LeSEA (b. 1913)
1994 – Berton Roueché, American journalist and author (b. 1910)
1993 – Jim Valvano, American basketball player, coach, and sportscaster (b. 1946)
1991 – Steve Broidy, American film producer (b. 1905)
1987 – Ben Linder, American engineer and activist (b. 1959)
1980 – Tommy Caldwell, American bass player (b. 1949)
1977 – Ricardo Cortez, American actor (b. 1900)
1976 – Richard Hughes, American author and poet (b. 1900)
1970 – Ed Begley, American actor (b. 1901)
1956 – Fred Marriott, American racing driver (b. 1872)
1944 – Frank Knox, American journalist and politician, 46th United States Secretary of the Navy (b. 1874)
1905 – Fitzhugh Lee, American general and politician, 40th Governor of Virginia (b. 1835)
1865 – Samuel Cunard, Canadian-English businessman, founded Cunard Line (b. 1787)
1781 – Cornelius Harnett, American merchant, farmer, and politician (b. 1723)