Victory of Armed Forces Day in Cuba
Victory of Armed Forces Day in Cuba is held on January 2. This event in the first decade of the month January is annual.
Help us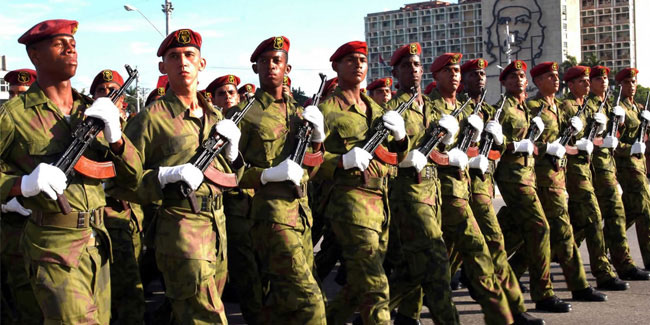 "On December 2, the 82 expeditionaries of the Granma under the command of the Chief of the Revolution, set foot on the soil of the Homeland, defying the might of the enemy who fired air and naval fire against us as soon as dawn broke and, from that day on, the fight would be uninterrupted until the victory of January 1, 1959."
Victory Day of the Armed Forces in Cuba is a holiday celebrated every year on January 2. As it is a public holiday, most stores, banks and services will be closed or will have reduced opening hours.
Similar holidays and events, festivals and interesting facts

Triumph of the Cuban Revolution on January 1
;

Public Domain Day on January 1
(multiple countries);

Cavalry and Armor Day in Thailand on January 4
;

Pathet Lao Day in Laos on January 6
;

Armed Forces Day in Iraq on January 6
;

Margaret Thatcher Day on Falkland Islands on January 10
;

Memorial Day in Turkmenistan on January 12
(Day of mourning in honor of the Turkmen killed on January 12, 1881 at the hands of Russian invaders at the Battle of Geok-Tepe, near Ashgabat)