The first day of Blacks and Whites' Carnival in southern Colombia
The first day of Blacks and Whites' Carnival in southern Colombia is held on January 2. Celebrated until January 7. This event in the first decade of the month January is annual.
Help us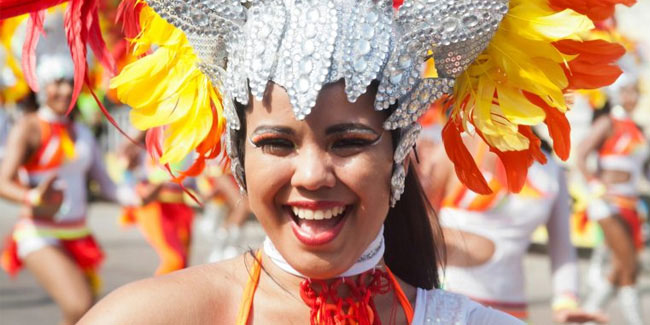 Introduced by the Spanish, carnival in Colombia has incorporated elements from European cultures and has managed to synthesize and reinterpret traditions that belonged to Colombia's African and indigenous cultures. There is evidence that shows that carnival already existed in the country in the 18th century and that it caused concern to the authorities who prohibited celebrations in the main centers of colonial power such as Cartagena, Santafé and Popayán. The carnival therefore had to continue its evolution and reinterpretation in the villages and towns of little importance at that time and where the celebrations did not offend the ruling elites. The result was the continued celebration of carnival festivals in Barranquilla (Carnaval de Barranquilla), and other towns along the Magdalena River, as well as in Pasto (Carnaval de Negros y Blancos) in the south of the country. In modern times, during the 20th century, there were several attempts to introduce the carnival in the country's capital but it never gained the full approval of the authorities.
The Carnaval de Negros y Blancos is the largest and most important festival in southern Colombia. Although its geographical indication belongs to the city of Pasto, it has also been adopted by other municipalities in the department of Nariño and southwestern Colombia. It is celebrated from January 2 to 7 each year, and attracts a considerable number of Colombian and foreign tourists.
On September 30, 2009 it was declared Intangible Cultural Heritage of Humanity by the UNESCO committee.
Similar holidays and events, festivals and interesting facts

Public Domain Day on January 1
(multiple countries);

The first day of the Carnival of Riosucio on January 2
(celebrated until January 8 every 2 years);

Three Kings Cavalcade on January 6
;

Memorial Day for the Sincelejo tragedy in Colombia on January 20
(1980);

International Community Manager Day on January 22
(Held on the fourth Monday of January);

World Day for African and Afrodescendant Culture on January 24
;

World Environmental Education Day on January 26