World Mosquito Day
World Mosquito Day is held on August 20. In memory of the discovery of the British doctor Sir Ronald Ross, which he made in 1897. He was able to establish that it is female mosquitoes that transmit malaria between humans. This event in the second decade of the month August is annual.
Help us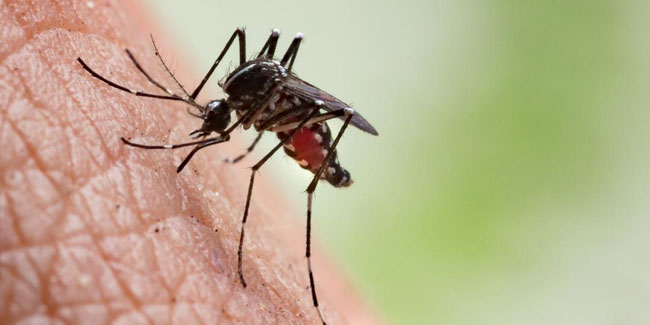 There are more than 3,500 species of mosquitoes. The average mosquito lifespan is less than two months. Only female mosquitoes bite.
In comparison to other insects, such as flies and wasps, mosquitoes aren't the strongest of fliers and are quite slow. It is estimated that these biting insects can only fly at speeds between 1 and 1.5 mph so you can't expect them to be breaking Usain Bolt's 100m world record anytime soon!
When their senses are stimulated with CO2, it sends a signal to the visual area of the brain. That makes mosquitoes better and more accurate when they track visual objects. Basically, mosquitoes are smart enough to see us, even though it may not be crystal clear.
Similar holidays and events, festivals and interesting facts

World Orangutan Day on August 19
;

World Photo Day on August 19
(Founded in 2009 by Australian photographer Korske Ara. The date was chosen to honor the day the French government acquired a patent for the daguerreotype, an early photographic process);

World French Fries Day on August 20
;

International Day of Remembrance and Tribute to the Victims of Terrorism on August 21
(adopted by the UN on October 27, 2017);

Speech Pathology Week in Australia on August 21
(2022, 21-27 August. Speech Pathology Week seeks to promote the speech pathology profession and the work done by speech pathologists with the more than 1.1 million Australians who have a communication or swallowing disorder that impacts on their daily life);

International Day of Remembrance for Victims of Violence Due to Religion or Belief on August 22
(International Day Commemorating the Victims of Acts of Violence Based on Religion or Belief - established since May 28, 2019 - UN A/RES/73/296);

International Folklore Day on August 22
;

International Booktuber's Day on August 22
;

National Surgical Oncologist Day in USA on August 22