Bon Festival or Awa Dance Festival in Japan
Bon Festival or Awa Dance Festival in Japan is held on August 15. 阿波踊り observances: Tokushima Prefecture. This event in the second decade of the month August is annual.
Help us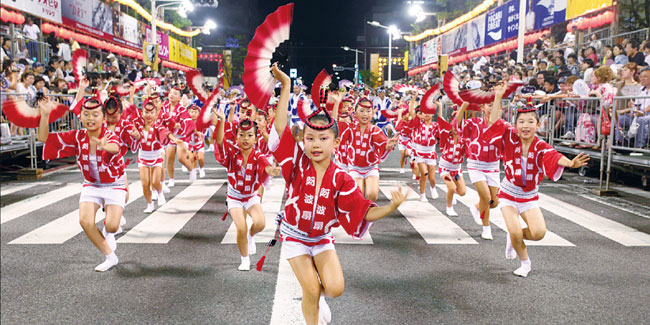 The world famous Awa Dance has a 400 years' history. The story of its origin varies. It is said that Awa Dance was performed often around the time Hachisuka Iemasa, a feudal load of Tokushima, entered Tokushima in 1586, and hoarded the wealth produced by the indigo and salt trades.
The Awa Dance Festival (阿波踊り, Awa Odori) is held from 12 to 15 August as part of the Obon festival in Tokushima Prefecture on Shikoku in Japan. Awa Odori is the largest dance festival in Japan, attracting over 1.3 million tourists every year.
Obon, also known as Bon, is one of the most important customs in Japan that was introduced by the Buddhists to the Japanese. Obon is a holiday in mid-July or August and usually lasts a week. It brings families together and reunites them with the dead. It is loosely interpreted as "Festival of the Dead".
Similar holidays and events, festivals and interesting facts

WorlWide KPOP Day on August 13
;

National Chilean Trap Day on August 21
;

Umhlanga Day in Swaziland on August 23
;

International Strange Music Day on August 24
(The celebration was conceived by Patrick Grant, a musician from New York City. The goal of the festival is simple: to encourage people to play and listen to music that we may not yet appreciate enough);

Nostalgia Night in Uruguay on August 24
;

Payador Day in Uruguay on August 24
;

National La Morenada Dance Day in Bolivia on September 7
(Día Nacional de la Danza La Morenada)