Independence Day in Bolivia
Independence Day in Bolivia is held on August 6. Celebrates the independence of Bolivia from Spain in 1825. This event in the first decade of the month August is annual.
Help us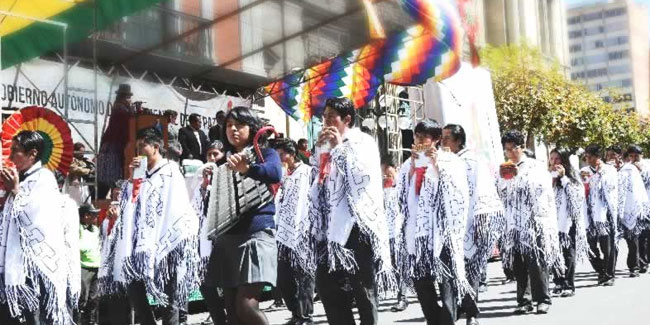 August 6 is a commemorative date both for Bolivians and for the entire Andean Community, since in 1825 the Republic of Bolivia would declare itself independent through the General Assembly of Deputies of the Provinces of Upper Peru.
Similar holidays and events, festivals and interesting facts

World Day of Joy on August 1
;

Pachamama Raymi on August 1
(Quechuan in Ecuador and Peru);

Bolivian Armed Forces Day on August 7
;

Feast day of the Assumption of Mary on August 15
(Christian feast day, one of the Catholic holy days of obligation a public holiday in Austria, Belgium, Benin, Bosnia, Burundi, Cameroon, Chile, Colombia, Croatia, Cyprus, France, Germany, Greece, Guatemala, Hungary, Italy, Ivory Coast, Lebanon, Liechtenstein, Lithuania, Luxembourg, Macedonia, Madagascar, Malta, Mauritius, Monaco, Paraguay, Poland, Portugal, Romania, Senegal, Seychelles, Slovenia, Spain, Switzerland, Togo, and Vanuatu);

San Roque Day on August 16
;

Flag Day in Bolivia on August 17
;

Ch'utillos Festival in Potosí, Bolivia on August 24