Kadooment Day in Barbados
Kadooment Day in Barbados is held on August 7. Harvest Home or Crop Over celebrated on the first Monday of August. This event in the first decade of the month August is annual.
Help us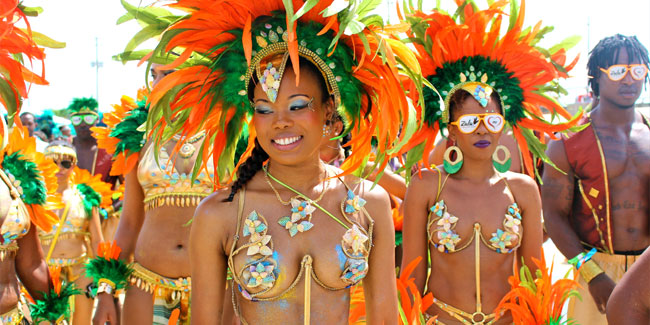 This is the largest national festival, when costumed groups fill the streets with music and dance, and the air is fragrant with the exotic smells of local cuisine. The holiday takes place in the context of Harvest Home or Crop Over, which is associated with the beginning of the harvest on sugar cane plantations during slavery. This cultural tradition began in 1687.
Many people use the terms 'Kadooment' and 'Crop Over' interchangeably but Crop Over is the name of the two-month-long festival. Kadooment is the name of the final day of Crop Over, the popular and colourful street parade.
Similar holidays and events, festivals and interesting facts

Emancipation Day in Barbados, Bermuda, Guyana, Trinidad and Tobago, Jamaica on August 1
(Celebration of the Slavery Abolition Act 1833 which ended the slavery in the British Empire, generally celebrated as a part of Carnival, as the Caribbean Carnival takes place at this time);

Barbados Independence Day on November 30
(celebrates the independence of Barbados from the United Kingdom in 1966);

CARICOM–Cuba Day on December 8
(Caribbean Community);

Errol Barrow Day in Barbados on January 21
;

Rihanna Day in Barbados on February 21
(celebrated since 2008 in honor of the famous singer from Barbados);

National Heroes Day in Barbados on April 28
;

Mother's Day on May 12
(Anguilla, Antigua and Barbuda, Aruba, Australia, Austria, Bahamas, Bangladesh, Barbados, Belgium, Belize, Bermuda, Bhutan, Bonaire, Botswana, Brazil, Brunei, Canada, Cambodia, Cayman Islands, Central African Republic, Chad, Chile, China, Colombia, Congo, Dem. Rep., Congo, Rep., Cote d'Ivoire, Croatia, Cuba, Curaçao, Cyprus, Czech Republic, Denmark, Dominica, Ecuador, Equatorial Guinea, Estonia, Ethiopia, Faroe Islands, Fiji, Finland, Germany, Gabon, Gambia, Greenland, Ghana, Greece, Grenada, Guyana, Honduras, Hong Kong, Iceland, India, Italy, Jamaica, Japan, Kenya, Latvia, Liberia, Liechtenstein, Macau, Malaysia, Malta, Myanmar, Namibia, Netherlands, New Zealand, Pakistan, Papua New Guinea, Peru, Philippines, Puerto Rico, Saint Kitts and Nevis, Saint Lucia, Saint Vincent and the Grenadines, Samoa, Singapore, Sint Maarten, Slovakia, South Africa, Sri Lanka, Suriname, Switzerland, Taiwan, Tanzania, Tonga, Trinidad and Tobago, Turkey, Uganda, Ukraine, United States, Uruguay, Vietnam, Venezuela, Zambia, Zimbabwe)