Fiesta de San Sebastián in Andorra
Fiesta de San Sebastián in Andorra is held on January 20. This event in the second decade of the month January is annual.
Help us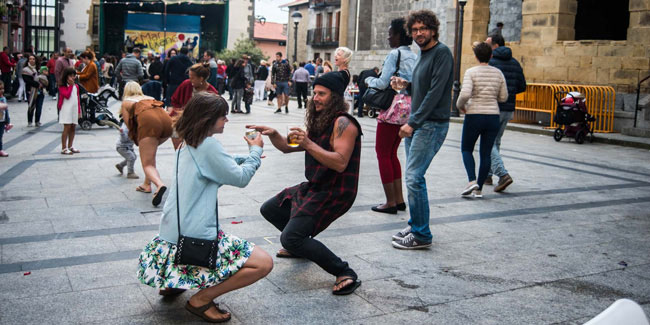 January 20 is the day of the Feast of San Sebastian. This festival is organized by the brotherhood of San Sebastian since 1892. San Sebastián is the patron saint of Somontín and his feast day, January 20, is extended to the following day, the feast of Santa Inés.
The day of San Sebastian, and in places of the Basque geography as Donostia and Azpeitia resounds already for weeks the 'rataplán' of thousands of drums that rehearse the pieces of the traditional tamborrada. Also from the Diaspora, numerous Basques and euskal etxeas will join the party spreading the echo of the drums and the music of Sarriegi in places like Argentina, Venezuela, USA, Canada, Andorra or Mexico.
Donostia is getting ready to celebrate its big day, January 20, the day of San Sebastian, the most beloved and awaited by the people of Donostia. The tamborrada of the day of San Sebastian is the most participatory party of the capital of Gipuzkoa, in which about ten percent of the Donostiarras plays the drum or barrel, as appropriate, in any of the nearly one hundred tamborradas organized in different neighborhoods of the city.
Similar holidays and events, festivals and interesting facts

Fiesta de San Antonio in Andorra on January 17
;

Carnival in Andorra on February 12
(Held on the Monday preceding Ash Wednesday);

Constitution Day in Andorra on March 14
;

Saint Joseph's Day or Father's Day on March 19
(in Andorra, Angola, Spain, Portugal, Italy, Switzerland, Honduras, and Bolivia);

La Diada de Sant Jordi on April 23
(Catalonia, Spain, Andorra. The Día de Sant Jordi, where flowers and gifts are exchanged);

Carnaval of Sant Julià de Lòira in Andorra on May 26
(On the last Sunday of May is held the Romería to the Sanctuary of the Virgen de Canòlic, where there are several dance contests in Plaça Nova);

St John's Eve and the first day of the Midsummer celebrations on June 23
(Roman Catholic Church, Europe: - Bonfires of Saint John in Spain; Festa del Poble in Andorra; First night of Festa de São João do Porto; First day of Golowan Festival in Cornwall; Jaaniõhtu in Estonia; Jāņi in Latvia; Kupala Night in Belarus, Lithuania, Poland, Russia, Ukraine; Last day of Drăgaica fair in Buzău, Romania)