Timkat, or 20 during Leap Year
Timkat, or 20 during Leap Year is held on January 19. Ethiopian Orthodox. This event in the second decade of the month January is annual.
Help us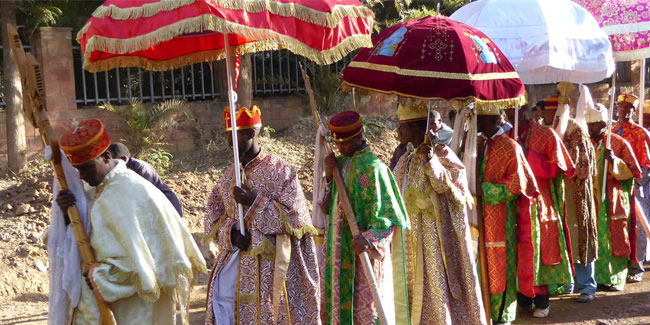 Timkat, which translates as 'baptism', celebrates the baptism of Jesus by John the Baptist in the River Jordan. It begins with the "Ketera" (the eve of Timket) which is held to commemorate the baptism of Christ in the River Jordan. Ethiopians embrace this annually with a mass baptism at different waterfronts or sacred pools around the country, the top spots being Lalibela, Gondar, and Addis Ababa. It's celebrated on January 19 (or January 20 in a leap year), commemorating the Baptism of Jesus in the River Jordan on that date (the tenth day of the month Terr according to the Ethiopian calendar).
Timket is a 3-day event with lots of interesting features and the celebration comes 12 days after the Ethiopian Christmas (also referred to as Gehenna).
Similar holidays and events, festivals and interesting facts

National Coffee Day on September 29
;

Patriots Victory Day or Arbegnoch Qen in Ethiopia on May 5
;

Motherís Day on May 12
(Anguilla, Antigua and Barbuda, Aruba, Australia, Austria, Bahamas, Bangladesh, Barbados, Belgium, Belize, Bermuda, Bhutan, Bonaire, Botswana, Brazil, Brunei, Canada, Cambodia, Cayman Islands, Central African Republic, Chad, Chile, China, Colombia, Congo, Dem. Rep., Congo, Rep., Cote d'Ivoire, Croatia, Cuba, Curaçao, Cyprus, Czech Republic, Denmark, Dominica, Ecuador, Equatorial Guinea, Estonia, Ethiopia, Faroe Islands, Fiji, Finland, Germany, Gabon, Gambia, Greenland, Ghana, Greece, Grenada, Guyana, Honduras, Hong Kong, Iceland, India, Italy, Jamaica, Japan, Kenya, Latvia, Liberia, Liechtenstein, Macau, Malaysia, Malta, Myanmar, Namibia, Netherlands, New Zealand, Pakistan, Papua New Guinea, Peru, Philippines, Puerto Rico, Saint Kitts and Nevis, Saint Lucia, Saint Vincent and the Grenadines, Samoa, Singapore, Sint Maarten, Slovakia, South Africa, Sri Lanka, Suriname, Switzerland, Taiwan, Tanzania, Tonga, Trinidad and Tobago, Turkey, Uganda, Ukraine, United States, Uruguay, Vietnam, Venezuela, Zambia, Zimbabwe);

Filseta on August 7
;

Enkutatash in Ethiopia, Eritrea, Rastafari on September 12
(Celebrated on the first day of Mäskäräm);

Ethiopia National Revolution Day on September 12
(1974)