Birthday of Edgar Allan Poe
Birthday of Edgar Allan Poe is held on January 19. Commemorated by the Poe Toaster at his grave in Baltimore. This event in the second decade of the month January is annual.
Help us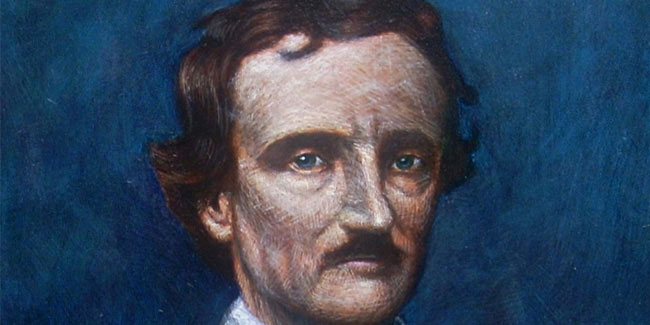 At just three years old, he was orphaned. He Was a Champion Swimmer. He Published His First Book At 18. His most well-known poem, The Raven, saw instant success. Poe Had a Potentially Bright Military Future. He Was The First American Professional Writer. He was the first person to use the term 'short story'. The cause of his death is still unknown.
Poe carried on writing even after he'd died. At least, if you believe the rather outlandish claim of Lizzie Doten, the psychic medium whose 1863 book, Poems from the Inner Life, included poems which Doten claimed to have received from the ghost of Edgar Allan Poe. (We must confess to being, er, sceptical here at Interesting Literature…) Perhaps Doten spied a chance to increase the popularity of her own rather mediocre verses by attaching Poe's name to the project!
Poe is best remembered for his tales of terror and haunting poems, but he is also credited as one of the earliest writers of short stories, the inventor of the modern detective story, and an innovator in the genre of science fiction.
Similar holidays and events, festivals and interesting facts

National Gourmet Coffee Day and Peking Duck Day in USA on January 18
;

Maintenance Day in the USA on January 18
(unofficially);

National Popcorn Day in USA on January 19
;

National Disc Jockey Day in USA on January 20
(DJ Day is celebrated in remembrance of the death of Albert James Freed. Freed, also known as Moondog, was an influential disc jockey in the 1950s. He is credited with introducing the term "rock 'n' roll" to the world);

Cheese Lovers Day in USA and UK on January 20
;

National Buttercrunch Day in USA on January 20
;

U.S. Presidential Oath Day on January 20
(1934)