Galla Bayramy in Turkmenistan
Galla Bayramy in Turkmenistan is held on July 21. Celebrated on the third Sunday of July. This event in the third decade of the month July is annual.
Help us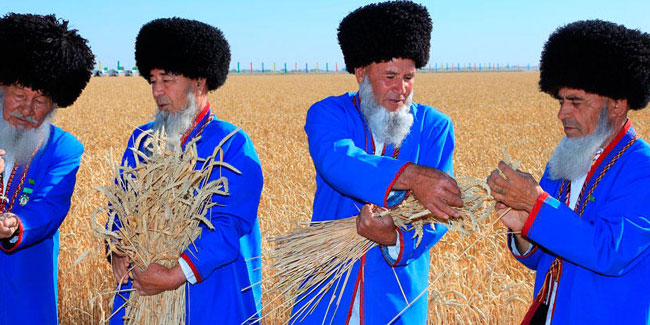 The agricultural sector plays a significant role in the economic strategy of Turkmenistan. The state renders all kind of support to the sector, which is expressed in large investments directed to technical re-equipment and modernization of all production infrastructure of agro-industrial complex, development of chemical industry providing farmers with mineral fertilizers.
Traditionally, on the third Sunday of July, Turkmenistan celebrates Galla Bayramy, which is based on the ancient tradition of worshipping bread as a symbol of prosperity.
For the needs of the agro-industrial complex modern tractors, combines, seeders, sprayers, other machinery and equipment are systematically bought. Specific measures are taken in the field of improving water supply and melioration of agricultural land, increasing soil fertility, development of new virgin lands, introduction of advanced agricultural technologies, development of breeding, seed and pedigree cattle breeding.
Similar holidays and events, festivals and interesting facts

Revival, Unity, and Poetry of Magtymguly Day in Turkmenistan on June 27
;

Day of Healthcare and Medical Industry of Turkmenistan on July 21
;

Melon Day in Turkmenistan on August 11
(celebrated on the second Sunday in August);

Turkmen Bakhshi Day on September 8
(celebrated on the second Sunday in September on Turkmenistan);

International Crane Day on September 8
(Celebrated on the 2nd Sunday in September);

Day of the Workers in the Oil, Gas, Power, and Geological Industry in Turkmenistan on September 14
(celebrated on the second Saturday in September);

Turkmenistan Independence Day on September 27
(celebrates the independence of Turkmenistan from USSR in 1991)