The Twelfth, also known as Orangemen's Day
The Twelfth, also known as Orangemen's Day is held on July 12. Northern Ireland, Scotland, Newfoundland and Labrador. This event in the second decade of the month July is annual.
Help us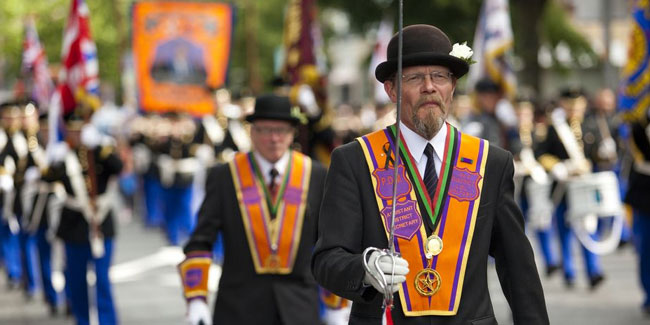 The day commemorates Protestant king William of Orange's victory over Catholic king James II at the Battle of the Boyne: a pivotal moment for the Protestant cause. Orangemen or Orangewomen can refer to: Historically, supporters of William of Orange. Members of the modern Orange Order, a Protestant fraternal organisation. Members or supporters of the Armagh GAA Gaelic football team.
Because of their association with King William of Orange, the fraternity has taken orange as its signature colour. Why orange? Well, because King William was born in the Netherlands. Around The Twelfth, orange bunting goes up, and members of the order wear orange sashes in memory of 'King Billy'.
Similar holidays and events, festivals and interesting facts

Armed Forces Day in Mauritania on July 10
;

Nathan Bedford Forrest Day on July 13
(As per a 1971 state law, Tennessee's Republican governor proclaimed 13 July Nathan Bedford Forrest Day);

Navy Day in Venezuela on July 24
(Día de la Armada Bolivariana de Venezuela);

National Gendarmerie Day in Argentina on July 28
;

Warriors' Day in Malaysia on July 31
(Hari Pahlawan);

Armed Forces Day in China on August 1
(or Anniversary of the Founding of the People's Liberation Army in People's Republic of China);

Minden Day on August 1
(United Kingdom);

Armed Forces Day in Lebanon on August 1