Free Slurpee Day
Free Slurpee Day is held on July 11. Participating stores of the 7-Eleven chain in North America. This event in the second decade of the month July is annual.
Help us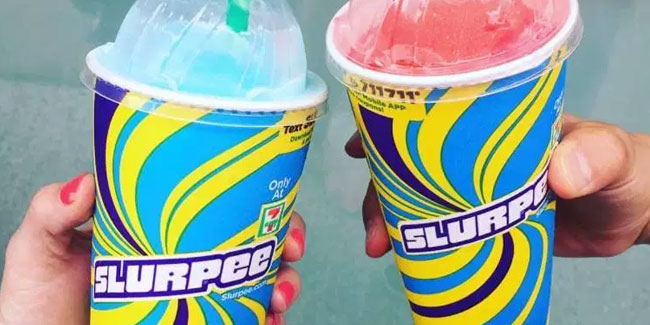 They say that necessity is the mother of invention, and one brave drinks pioneer is the proof. In 1959, the soda fountain in Omar Knedlik's Kansas Dairy Queen franchise was often malfunctioning, so he started storing his soda in the freezer instead. Customers loved the semi-frozen pop, and began requesting them (the high sugar content means that soda does not completely freeze). Realizing he had a slushy phenomenon on his hands, Knedlik began tinkering with a car air conditioner and eventually created an all-in-one machine that could create the drinks. He called it the ICEE.
The ICEE Company, which first distributed Knedlik's ICEE drink, allowed businesses to license a specified number of ICEE dispensing machines and have exclusive distribution rights in their territories. One of these businesses was 7-Eleven, who started using the "ICEE machines" in their store, with drinks of the same name. But executives soon decided they would brand the drinks as a new product. In a May 1966 brainstorming session with 7-Eleven's ad agency, director Bob Stanford was drinking the product through a straw when he commented that it made a "slurp" sound as it was coming through the straw, and the Slurpee was born. By the 1970s, there was a Slurpee machine in every 7-Eleven in the country.
Similar holidays and events, festivals and interesting facts

Natto Day in Japan on July 10
(Natto - Japanese food made from fermented soybeans);

National Pina Colada Day and 'Pick Blueberries' Day in USA on July 10
;

Pizza Day in Brazil on July 10
;

National Blueberry Muffin Day and National Mojito Day in USA on July 11
;

International Chocolate Day on July 11
;

Baker's Day in Acambaro, Guanajuato, Mexico on July 11
;

National Pecan Pie Day in USA on July 12