Saba Saba Day in Tanzania
Saba Saba Day in Tanzania is held on July 7. This event in the first decade of the month July is annual.
Help us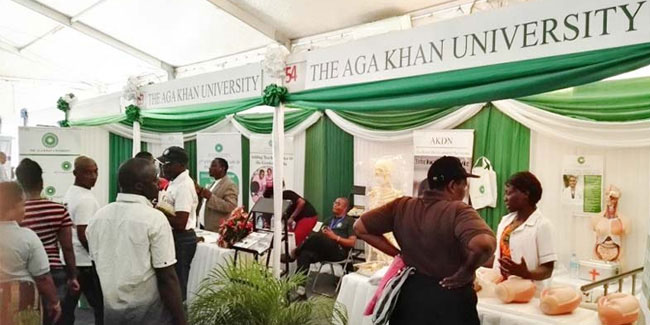 Saba Saba Day celebrates (among other things) the 1954 founding of the Tanzanian political party, TANU, the Tanganyika African National Union. Saba Saba means "seven seven" in Swahili, the national language of Tanzania (and of Tanganyika and Zanzibar, the two countries whose union created the United Republic of Tanzania in 1964). Saba Saba can also refer to the Dar es Salaam International Trade Fair. The fair is held every year on this date at the Saba Saba grounds near Kurasini in Dar es Salaam.
Saba Saba Day in Kenya is remembered as the day when protests took place throughout the country. On July 7, 1990 Kenyans took to the streets to demand free elections. The politicians who had called for the protests, Kenneth Matiba and Charles Rubia, were beaten and arrested by the then tyrannical dictator President Moi.
Today, Kenya, Saba Saba has taken on a new meaning, with civil societies and Social Justice Working Groups calling for respect for the constitution, an end to police brutality and killings.
Similar holidays and events, festivals and interesting facts

Motherís Day on May 12
(Anguilla, Antigua and Barbuda, Aruba, Australia, Austria, Bahamas, Bangladesh, Barbados, Belgium, Belize, Bermuda, Bhutan, Bonaire, Botswana, Brazil, Brunei, Canada, Cambodia, Cayman Islands, Central African Republic, Chad, Chile, China, Colombia, Congo, Dem. Rep., Congo, Rep., Cote d'Ivoire, Croatia, Cuba, Curaçao, Cyprus, Czech Republic, Denmark, Dominica, Ecuador, Equatorial Guinea, Estonia, Ethiopia, Faroe Islands, Fiji, Finland, Germany, Gabon, Gambia, Greenland, Ghana, Greece, Grenada, Guyana, Honduras, Hong Kong, Iceland, India, Italy, Jamaica, Japan, Kenya, Latvia, Liberia, Liechtenstein, Macau, Malaysia, Malta, Myanmar, Namibia, Netherlands, New Zealand, Pakistan, Papua New Guinea, Peru, Philippines, Puerto Rico, Saint Kitts and Nevis, Saint Lucia, Saint Vincent and the Grenadines, Samoa, Singapore, Sint Maarten, Slovakia, South Africa, Sri Lanka, Suriname, Switzerland, Taiwan, Tanzania, Tonga, Trinidad and Tobago, Turkey, Uganda, Ukraine, United States, Uruguay, Vietnam, Venezuela, Zambia, Zimbabwe);

Wakulima ya Nane Nane Day in Tanzania on August 8
(The local name of this holiday is Nane Nane, that in Swahili, the national language in Tanzania, means 'eight eight'. The day refers to the holiday's occurrence on the eighth day of the eighth month of the year.);

Engineer's Day in Tanzania on September 15
;

Nyerere Day in Tanzania on October 14
;

Tanzania Independence Day on December 9
(celebrates the independence of Tanganyika from Britain in 1961);

Zanzibar Revolution Day in Tanzania on January 12
;

National Tree Planting Day in Tanzania on April 1
;

Arbor Day in Tanzania on April 1