National Fried Chicken Day
National Fried Chicken Day is held on July 6. United States. This event in the first decade of the month July is annual.
Help us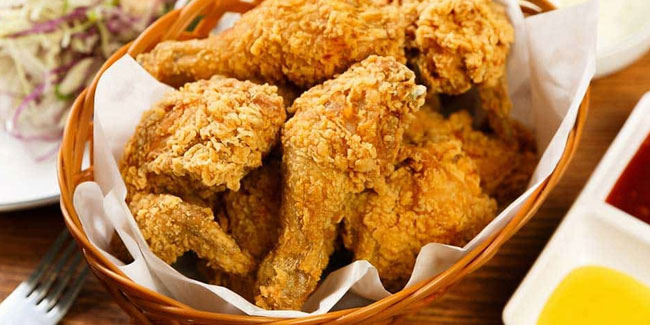 Who doesn't like a piece of chicken, battered and deep-fried in some hot oil until it's crispy on the outside but still nice and juicy on the inside? This method of frying chicken was perfected in the U.S. but not without a lot of influence from other countries — and even some controversies along the way.
The first recipe for fried chicken in the U.S. appeared in a book called "The Virginia Housewife, Or Methodical Cook" published in 1825. This was written by Mary Randolph, who ran a boarding house, and whose brother was married to Thomas Jefferson's daughter. In fact, Randolph's book is considered by many to be the first cookbook ever published in America, and the inclusion of a fried chicken recipe says something about the dish's place in the culinary landscape of the country. Her recipe would be familiar to cooks today and involves dredging a cut-up bird in flour, sprinkling it with some salt and deep-frying the pieces in lard.
Similar holidays and events, festivals and interesting facts

National Apple Turnover Day in USA on July 5
;

World Fried Chicken Day on July 6
;

National Strawberry Sundae Day in USA on July 7
;

International Cocoa Day on July 7
;

National Chocolate with Almonds Day and National Ice Cream Sundae Day in USA on July 8
;

National Sugar Cookie Day in USA on July 9
;

Natto Day in Japan on July 10
(Natto - Japanese food made from fermented soybeans);

National Pina Colada Day and 'Pick Blueberries' Day in USA on July 10
;

Pizza Day in Brazil on July 10