Seychelles Independence Day
Seychelles Independence Day is held on June 29. It is celebrated the independence of Seychelles from the United Kingdom in 1976. This event in the third decade of the month June is annual.
Help us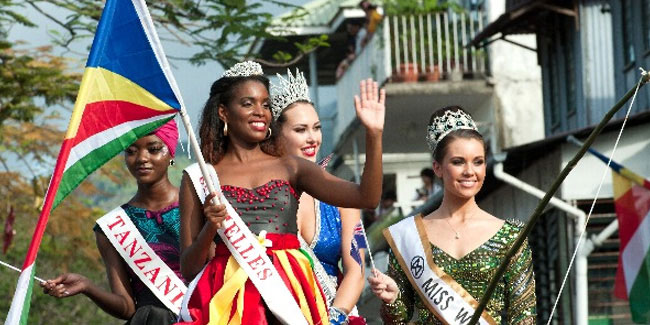 The Republic of Seychelles comprises 115 islands, mostly uninhabited, in the Indian Ocean. The islands were mainly used by pirates until the French took control in the 1750s. They were then named after Jean Moreau de Séchelles, Minister of Finance under Louis XV. Seychelles is the only United Nations member whose name has no letters in common with 'Britain'.
It was not until 1964 that any new political movements were created. Elections were held in 1966, won by the SDP. In March 1970, colonial and political representatives of Seychelles met in London for a constitutional convention, with the Seychelles Democratic Party (SDP) of James Mancham advocating closer integration with the UK, and the Seychelles People's United Party (SPUP) of France-Albert René advocating independence. Further elections were held in April 1974, in which both major political parties campaigned for independence. Following this election, negotiations with the British resulted in an agreement under which the Seychelles became an independent republic within the Commonwealth on June 29, 1976. The newly knighted Sir James Mancham became the country's first President, with René as Prime Minister.
Similar holidays and events, festivals and interesting facts

National Day in Seychelles on June 18
;

Feast day of the Assumption of Mary on August 15
(Christian feast day, one of the Catholic holy days of obligation a public holiday in Austria, Belgium, Benin, Bosnia, Burundi, Cameroon, Chile, Colombia, Croatia, Cyprus, France, Germany, Greece, Guatemala, Hungary, Italy, Ivory Coast, Lebanon, Liechtenstein, Lithuania, Luxembourg, Macedonia, Madagascar, Malta, Mauritius, Monaco, Paraguay, Poland, Portugal, Romania, Senegal, Seychelles, Slovenia, Spain, Switzerland, Togo, and Vanuatu);

All Saints' Day a holy day of obligation on November 1
(a national holiday in many historically Catholic countries. And its related observance: Day of the Innocents, The first day of Day of the Dead or El Dia de los Muertos celebration. - Mexico, Haiti);

Immaculate Conception on December 8
(public holiday in several countries, a holy day of obligation in others);

Seychelles Liberation Day on June 5
;

Father's Day in Seychelles on June 16