Memorial Day in South Korea
Memorial Day in South Korea is held on June 6. This event in the first decade of the month June is annual.
Help us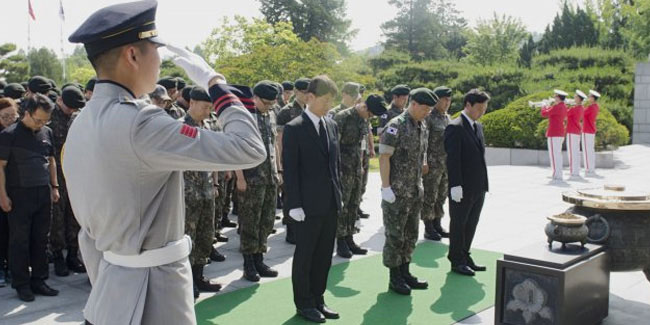 On this day, a memorial ceremony is held in Seoul National Cemetery, first started in 1956. It's a yearly event with a long history and is celebrated by regular citizens and influential public figures. At 10 a.m. on Memorial Day, a siren rings all over the country, and people have silent prayers for one minute. The South Korean flag is flown at half-staff. Other countries are also familiar with Memorial day and often have celebrations to commemorate that day. Memorial Day is dedicated to soldiers– brave men and women, who sacrificed their lives while doing military service during war.
Similar holidays and events, festivals and interesting facts

Birthday of Carl Gustaf Emil Mannerheim & Flag Day celebration of the Finnish Defence Forces on June 4
(Finland);

Tiananmen Square Protests of 1989 Memorial Day on June 4
(International);

June 4th revolution in Ghana on June 4
(1979);

Day of Remembrance for Children Who Died in Ukraine on June 4
(Day of Remembrance for Children Who Died as a Result of the Armed Aggression of the Russian Federation against Ukraine);

Normandy landings of the Allied Expeditionary Forces on June 6
(D-Day, a.k.a. Operation Neptune, part of Operation Overlord 1944);

Battle of Arica Day on June 7
(Arica y Parinacota Region, Chile);

Sette Giugno in Malta on June 7
;

Union Dissolution Day on June 7
(Norway. The Union Dissolution Day, observed in Norway on 7 June (though not a public holiday), is marked in remembrance of the Norwegian parliament's 1905 declaration of dissolution of the union with Sweden, a personal union which had existed since 1814)