Maghe Sankranti in Nepal
Maghe Sankranti in Nepal is held on January 15. Sidereal winter solstice celebrations in South and Southeast Asian cultures; marking the transition of the Sun to Capricorn, and the first day of the six months Uttarayana period. This event in the second decade of the month January is annual.
Help us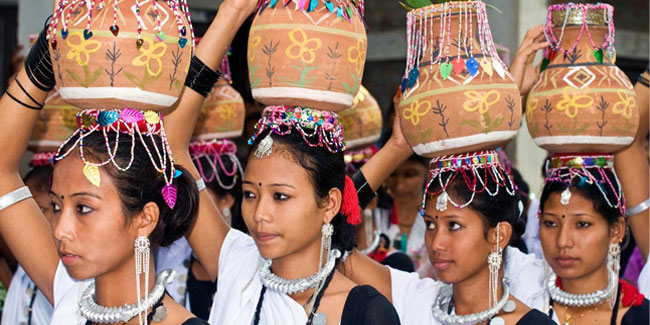 Maghe Sankranti is regarded as marking the beginning of an auspicious phase in Nepalese culture. It is cited as the 'holy phase of transition'. It marks the end of an inauspicious phase which according to the Hindu calendar begins around mid-December.
It falls on the same day every year according to the Gregorian calendar. Unlike many cultural festivals which move around on the calendar each year, Makar Sankrati is always celebrated on January 15th with a few exceptions where it is on the 13th. It falls on the solstice so the day and night are the same length.
Festival is mainly dedicated to the lord of light Surya and the huge significance of Surya is traceable to the Veda, especially the Gayatri Mahamantra. Nepalese people celebrate the Maghe Sankranti by bathing in the confluence of rivers and taking a holy dip to the Bagmati, Devghat, Kaligandaki, Koshi, and Triveni.
Similar holidays and events, festivals and interesting facts

Unity Festival in Nepal on January 11
(in honor of Prithvi Narayan, who laid the foundation for the unification of the first part of the country, the king of which he became in 1768);

Songkran in Thailand, Laos, and Nepal on April 13
(Thai New Year, a New Year festival celebrated April 13-15);

Nepali New Year, or Navabarsha / Vaishak Ek on April 14
(South and Southeast Asian New Year);

Bengali New Year on April 15
(or Poila Boishakh. Sri Lankans begin celebrating their National New Year);

Democracy Day in Nepal on April 24
(in honor of the restoration of the Parliament of Nepal in 2006);

Nepal Republic Day on May 28
;

National Paddy Day in Nepal on June 29