Rotuma Day in Fiji
Rotuma Day in Fiji is held on May 13. It is an annual celebration on the island of Rotuma, a Fijian dependency. This event in the second decade of the month May is annual.
Help us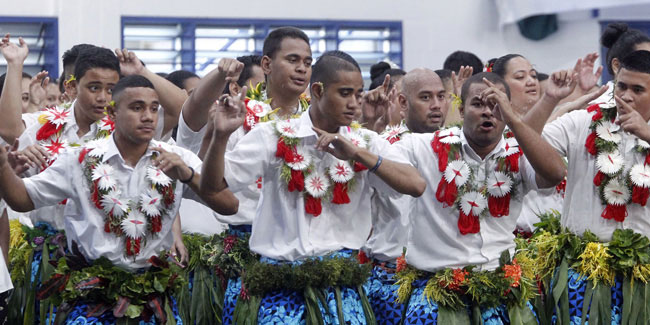 Rotuma Island, island dependency of Fiji, South Pacific Ocean, 400 miles (640 km) north-northwest of Suva. The island of Rotuma lies about three hundred miles to the north of the Fiji group, on the western fringe of Polynesia. Rotuma is a volcanic island surrounded by eight islets. There are some interesting archaeological sites such as the grave of the kings, at Sisilo. If you have plenty of time, Rotuma is a great place to experience the laid-back Polynesian lifestyle.
Sighted in 1791 by the British naval ship Pandora during its search for the HMS Bounty mutineers, the main island was formerly called Grenville. The group was annexed by Great Britain in 1881 and attached administratively to Fiji, then a British possession.
Rotumans loved biscuits so very much, when introduced to them by explorers, that in an effort to reproduce it they planted it, earning them name "Bisikete".
Similar holidays and events, festivals and interesting facts

Motherís Day on May 12
(Anguilla, Antigua and Barbuda, Aruba, Australia, Austria, Bahamas, Bangladesh, Barbados, Belgium, Belize, Bermuda, Bhutan, Bonaire, Botswana, Brazil, Brunei, Canada, Cambodia, Cayman Islands, Central African Republic, Chad, Chile, China, Colombia, Congo, Dem. Rep., Congo, Rep., Cote d'Ivoire, Croatia, Cuba, Curaçao, Cyprus, Czech Republic, Denmark, Dominica, Ecuador, Equatorial Guinea, Estonia, Ethiopia, Faroe Islands, Fiji, Finland, Germany, Gabon, Gambia, Greenland, Ghana, Greece, Grenada, Guyana, Honduras, Hong Kong, Iceland, India, Italy, Jamaica, Japan, Kenya, Latvia, Liberia, Liechtenstein, Macau, Malaysia, Malta, Myanmar, Namibia, Netherlands, New Zealand, Pakistan, Papua New Guinea, Peru, Philippines, Puerto Rico, Saint Kitts and Nevis, Saint Lucia, Saint Vincent and the Grenadines, Samoa, Singapore, Sint Maarten, Slovakia, South Africa, Sri Lanka, Suriname, Switzerland, Taiwan, Tanzania, Tonga, Trinidad and Tobago, Turkey, Uganda, Ukraine, United States, Uruguay, Vietnam, Venezuela, Zambia, Zimbabwe);

Ratu Sir Lala Sukuna Day in Fiji on May 27
(The celebrations in honor of Fiji's first modern statesman actually begin a week early);

King's Birthday in New Zealand, Cook Islands, Fiji on June 5
(celebrated on the first Monday in June);

Father's Day in Australia on September 3
(also Fiji, New Zealand, Papua New Guinea is celebrated on the first Sunday of September);

Fiji Constitution Day on September 7
(This public holiday was instituted in 2013 to commemorate the passing of the 2013 constitution, but it was first observed in 2016. Fiji's current constitution is its fourth since independence);

Fiji Day on October 10
(celebrates the independence of Fiji from United Kingdom in 1970);

BlueSky Fiji Music Festival on November 6
(international music festival)