Saint Andrea the First Day
Saint Andrea the First Day is held on May 12. Georgia. This event in the second decade of the month May is annual.
Help us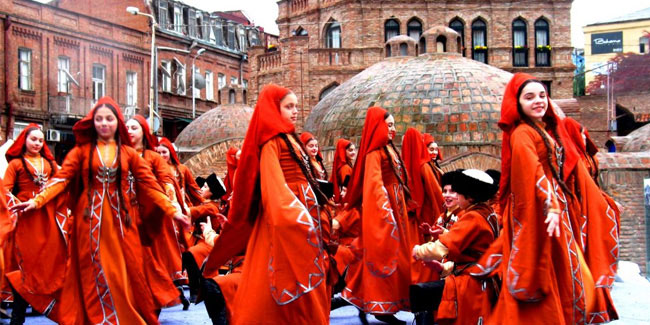 Celebration of day of Apostle Andrew the 'first-called', founder of Georgian Orthodox Church.
Andrew the Apostle, also called Saint Andrew, was an apostle of Jesus according to the New Testament. He is the brother of Simon Peter and is a son of Jonah. He is referred to in the Orthodox tradition as the First-Called. According to Orthodox tradition, the apostolic successor to Andrew is the Patriarch of Constantinople.
The church tradition of Georgia regards Andrew as the first preacher of Christianity in the territory of Georgia and as the founder of the Georgian church. This tradition derives from Byzantine sources, particularly Nicetas of Paphlagonia (died c. 890) who asserts that "Andrew preached to the Iberians, Sauromatians, Taurians, and Scythians and to every region and city, on the Black Sea, both north and south." The version was adopted by the 10th–11th-century Georgian ecclesiastics and, refurbished with more details, was inserted in the Georgian Chronicles.
Similar holidays and events, festivals and interesting facts

St. George the Victorious Day in Georgia on May 6
(St. George is considered the patron saint of the country and the feast day of St. George is celebrated twice - November 23 and May 6);

Feast of the Mother of God on August 28
(Eastern Orthodox Church, a public holiday in the Republic of Macedonia, Serbia, and Georgia);

International Day of Equal Pay on September 18
(established by the UN General Assembly on November 15, 2019. Several countries, including Georgia and Ukraine, sponsored the resolution);

Tbilisoba in Georgia on October 8
(Georgian: თბილისობა);

St. Michael's Day on October 13
;

Rtveli in Georgia on October 15
;

Bedoba in Georgia or Destiny Day on January 2