Zanzibar Revolution Day in Tanzania
Zanzibar Revolution Day in Tanzania is held on January 12. This event in the second decade of the month January is annual.
Help us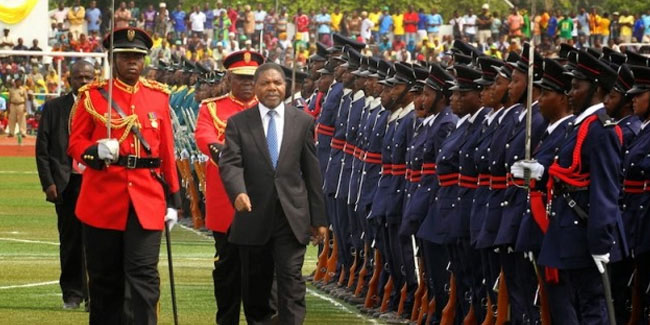 The Zanzibar Revolution consisted of the 1964 overthrow of Sultan Jamshid bin Abdullah of Zanzibar and his mainly Arab government by African revolutionaries. At the time of the revolution Zanzibar was a very ethnically diverse state consisting of several islands off the eastern coast of Tanganyika, which had received independence as a state from the United Kingdom in 1963.
At around 3 a.m. on January 12, 1964 between 600 - 800 poorly armed insurgents, mostly of African origin, aided by some of the dismissed African policemen, attacked the Unguja Island police stations, armories and radio station. The substitute policemen of Arab origin had received almost no training and despite responding by deploying their troops, they were soon subdued. Armed with hundreds of automatic rifles, machine guns and pistols seized control of strategic buildings in the capital, Zanzibar Town. Six hours after the beginning of the revolution, the telegraph office in the capital and the main government buildings were under the control of the insurgents, and the only airport on the island was seized at around 2:18 p.m. The insurgents took control of the island's only airport. Sultan Jamshid, along with Prime Minister Muhammad Shamte Hamadi and several members of the government fled the island on the royal yacht Seyyid Khalifa, and the sultan's palace and other property were seized by the revolutionaries. At least 80 people were killed and 200 injured, most of them Arabs, during the revolution's 12 hours of street fighting.
Similar holidays and events, festivals and interesting facts

Tanzania Independence Day on December 9
(celebrates the independence of Tanganyika from Britain in 1961);

National Tree Planting Day in Tanzania on April 1
;

Arbor Day in Tanzania on April 1
;

Tanzania Union Day on April 26
;

Motherís Day on May 12
(Anguilla, Antigua and Barbuda, Aruba, Australia, Austria, Bahamas, Bangladesh, Barbados, Belgium, Belize, Bermuda, Bhutan, Bonaire, Botswana, Brazil, Brunei, Canada, Cambodia, Cayman Islands, Central African Republic, Chad, Chile, China, Colombia, Congo, Dem. Rep., Congo, Rep., Cote d'Ivoire, Croatia, Cuba, Curaçao, Cyprus, Czech Republic, Denmark, Dominica, Ecuador, Equatorial Guinea, Estonia, Ethiopia, Faroe Islands, Fiji, Finland, Germany, Gabon, Gambia, Greenland, Ghana, Greece, Grenada, Guyana, Honduras, Hong Kong, Iceland, India, Italy, Jamaica, Japan, Kenya, Latvia, Liberia, Liechtenstein, Macau, Malaysia, Malta, Myanmar, Namibia, Netherlands, New Zealand, Pakistan, Papua New Guinea, Peru, Philippines, Puerto Rico, Saint Kitts and Nevis, Saint Lucia, Saint Vincent and the Grenadines, Samoa, Singapore, Sint Maarten, Slovakia, South Africa, Sri Lanka, Suriname, Switzerland, Taiwan, Tanzania, Tonga, Trinidad and Tobago, Turkey, Uganda, Ukraine, United States, Uruguay, Vietnam, Venezuela, Zambia, Zimbabwe);

Saba Saba Day in Tanzania on July 7
;

Wakulima ya Nane Nane Day in Tanzania on August 8
(The local name of this holiday is Nane Nane, that in Swahili, the national language in Tanzania, means 'eight eight'. The day refers to the holiday's occurrence on the eighth day of the eighth month of the year.)