Fossil Fools Day
Fossil Fools Day is held on April 1. This event in the first decade of the month April is annual.
Help us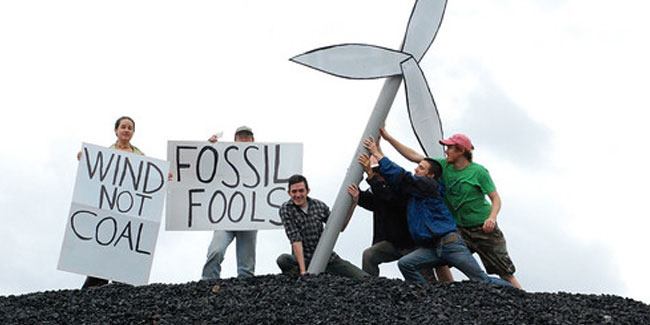 Fossil fuels are fuels that are formed by natural processes and therefore contain high percentage of carbon. The most commonly used fossil fuels are natural gas, petroleum, and carbon. Fossil fuels are primary sources of energy, but their use causes serious environmental issues such as increase in atmospheric carbon dioxide, air pollution, etc.
Fossil Fools Day began in 2004 with coordinated actions across the United States and Canada. Fossil Fools Day is an environmental demonstration day. It comprised over 125 actions coordinated by various environmental organizations. It occurs on April 1. The name is a play on the term fossil fuels and April Fools' Day. It aims to raise awareness of the hazards caused by harvesting, processing and utilizing fossil fuels.
Similar holidays and events, festivals and interesting facts

International Cleavage Day on March 31
;

Bunsen Burner Day on March 31
;

Crayola Crayon Day on March 31
;

International Quit Your Crappy Job Day on March 31
;

International Fun at Work Day on April 1
;

Dyngus Day on April 1
(It is very popular in Poland, as well as in Polish communities across America);

One Cent Day on April 1
;

Reading Is Funny Day on April 1
;

International Pooper Scooper Week on April 1
;

Tatting Day on April 1
;

Reconciliation Day on April 2