Day of the Sea in Bolivia
Day of the Sea in Bolivia is held on March 23. This event in the third decade of the month March is annual.
Help us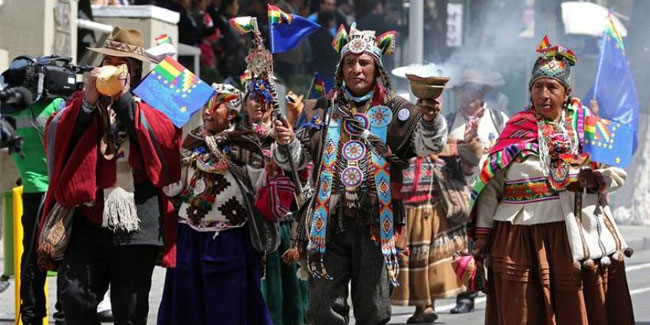 In Bolivia, the Day of the Sea is known as the commemoration of the loss of the department of Litoral after the War of the Pacific in favor of Chile in the 19th century. It is celebrated every March 23 remembering the death of Eduardo Abaroa during a war episode. The event is commemorated with multiple parades and marches in different cities of the country, consecrating a central ceremony in the Plaza Abaroa in the city of La Paz, with the participation of the president of the nation, national authorities, military, professionals, workers and citizens in general; similar acts are developed nationwide.
On March 21, 1879, when the Chilean attack on Calama, then Bolivian territory, began, Ladislao Cabrera and Severino Zapata gathered a group of 144 civilian citizens. Among them was Eduardo Abaroa, who, on March 23, 1879, died in the defense of the Topáter Bridge, which crosses the Loa River, with the indeclinable decision of never surrendering.
Similar holidays and events, festivals and interesting facts

Saint Joseph's Day or Father's Day on March 19
(in Andorra, Angola, Spain, Portugal, Italy, Switzerland, Honduras, and Bolivia);

Constitution Day in Bolivia on April 9
;

Children's Day in Bolivia on April 12
;

Chapaca Tradition Festival in Bolivia on April 15
;

Bolivian Inventor's Day on April 23
;

Secretary's Day in Latin American countries on April 26
;

Bolivian Construction Workers Day on April 26