Custom Chief's Day in Vanuatu
Custom Chief's Day in Vanuatu is held on March 5. This event in the first decade of the month March is annual.
Help us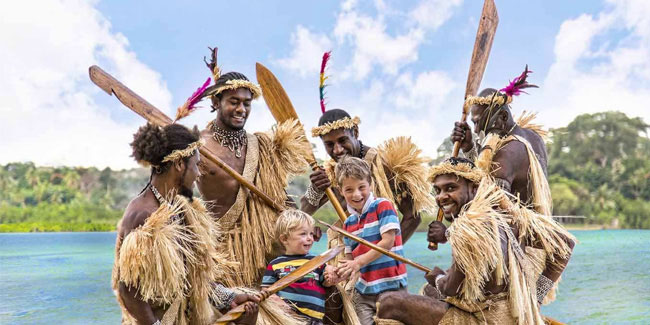 Vanuatu is a small island country in Melanesia. It proclaimed its independence in 1980 during the Coconut War. After independence, the government erected several public buildings, including a national museum, the House of Parliament, and the House of Custom Chiefs - the National Council of Chiefs (Malvatu Mauru), an advisory body of tribal chiefs.
In 1977 a National Council of Chiefs was set up by the government to advise and propose ways to ensure the preservation of traditional ways of life through Vanuatu. These tribal chiefs are honored on March 5 of each year, which is a public holiday. The celebration of Custom Chief's Day includes lavish feasts, sporting events and impromptu sports matches are popular, as are money-raising carnivals, agricultural fairs, arts festivals, singing, dancing, and other festivities.
Similar holidays and events, festivals and interesting facts

Father Lini Day in Vanuatu on February 21
;

Children's Day in Vanuatu on July 24
;

Vanuatu Independence Day on July 30
(celebrates the independence of Vanuatu from the United Kingdom and France in 1980);

Feast day of the Assumption of Mary on August 15
(Christian feast day, one of the Catholic holy days of obligation a public holiday in Austria, Belgium, Benin, Bosnia, Burundi, Cameroon, Chile, Colombia, Croatia, Cyprus, France, Germany, Greece, Guatemala, Hungary, Italy, Ivory Coast, Lebanon, Liechtenstein, Lithuania, Luxembourg, Macedonia, Madagascar, Malta, Mauritius, Monaco, Paraguay, Poland, Portugal, Romania, Senegal, Seychelles, Slovenia, Spain, Switzerland, Togo, and Vanuatu);

Constitution Day in Vanuatu on October 5
;

Unity Day in Vanuatu on November 29
;

Family Day in Vanuatu on December 26