Maritime Claim Day in Bolivia
Maritime Claim Day in Bolivia is held on February 14. Occupation of Antofagasta. This event in the second decade of the month February is annual.
Help us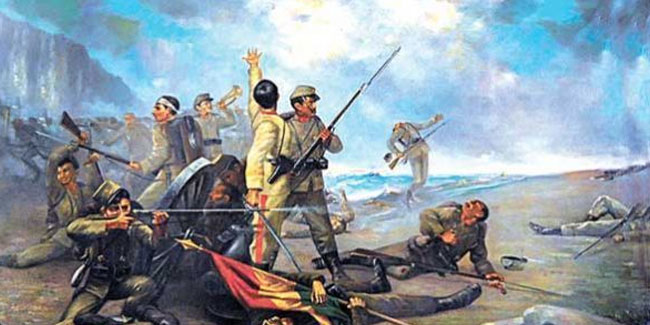 February 14, 1879 marked the end of Bolivian sovereignty in Antofagasta and the beginning of the War of the Pacific, with the occupation of that city by Chilean troops because on that day the auction of the assets of the Compañía de Salitres y Ferrocarril de Antofagasta was decreed.
After imposing a tax of 10 cents per 100 kilograms of exported saltpeter on the Compañía de Salitres y Ferrocarriles de Antofagasta (CSFA), despite the express prohibition of new or increased taxes on Chilean companies and individuals in the 1874 treaty between Bolivia and Chile, CSFA refused to pay, and after a year of unsuccessful attempts to resolve the problem, the Bolivian government of Hilarion Daza revoked the mining licenses, confiscated the company's assets, and auctioned them off on February 14, 1879. Upon learning of this action on February 11, the Chilean government of Anibal Pinto Garmendia considered the negotiations over and the boundary treaty broken, and the same day from Valparaiso ordered the withdrawal of territories south of the 23°S parallel, to which Chile had renounced rights in the treaties of 1866 and 1874 in exchange for certain economic rights.
Bolivia was born in 1825 with a coastline of approximately 400 kilometers on the Pacific Ocean. However, without prior declaration of war, Chilean troops invaded the Bolivian port of Antofagasta on February 14, 1879, disregarding the border treaty between the two countries. This historical episode marked the beginning of the War of the Pacific, which lasted until 1884.
As a result of this war, Chile annexed around 120,000 km2. of Bolivian territory, depriving them of their sovereign access to the Pacific Ocean.
Similar holidays and events, festivals and interesting facts

Carnival in Oruro, Bolivia on February 10
(Carnaval de Oruro - each year on the Saturday before Ash Wednesday);

Saint Joseph's Day or Father's Day on March 19
(in Andorra, Angola, Spain, Portugal, Italy, Switzerland, Honduras, and Bolivia);

Day of the Sea in Bolivia on March 23
;

Constitution Day in Bolivia on April 9
;

Children's Day in Bolivia on April 12
;

Chapaca Tradition Festival in Bolivia on April 15
;

Bolivian Inventor's Day on April 23