Christmas Lottery in Spain
Christmas Lottery in Spain is held on December 22. This event in the third decade of the month December is annual.
Help us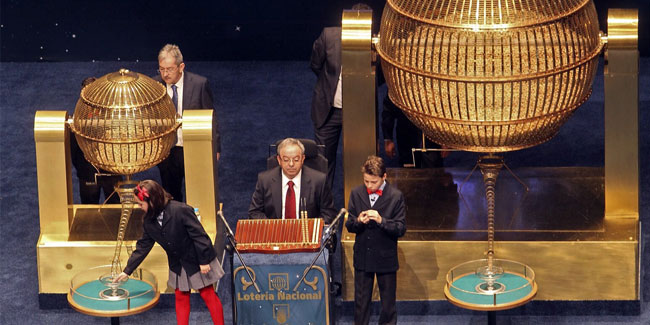 The Extraordinary Christmas Draw, known as the Christmas Lottery, is one of the most important and popular lottery draws held in Spain every December 22nd, which traditionally took place in the drawing hall of Loterías y Apuestas del Estado, in Madrid. Since 2010, due to the large number of people who come to watch the draw, it has been moved to other venues in Madrid with more capacity, such as the Palacio de Congresos or the Teatro Real. The second most important draw after this one is the Sorteo Extraordinario del Niño, which takes place every January 6.
It is part of the National Lottery draws. The top prize is called the Gordo, which since 2011 has a value of four million euros per ticket, four hundred thousand euros per tenth or twenty thousand euros per euro bet. The sales period of this draw is the longest of the year, since the administrations receive the numbers in the first weeks of July.
The first time the lottery was drawn at Christmas was on December 18, 1812 in Cadiz, and the first jackpot went to the number 03604. Then the ticket price was forty reales with a prize of four thousand pesetas. The first time it was called Sorteo de Navidad was on December 23, 1892, and it replaced the legend "Prósperos de Premios", although it was not printed on the tickets until Christmas 1897. Until the 1990s, the draw was held, as it is today, on December 22, except if it fell on a Sunday, which was brought forward to Saturday, December 21, 1991 being the last year in which this situation occurred. Nowadays, the extraordinary draw, which is held every year on December 22nd, and which is put on sale during the first fortnight of July, is the most important and popular of all the lottery draws held in Spain, since it represents 30% of the annual turnover of the Loterías y Apuestas del Estado organization.
Similar holidays and events, festivals and interesting facts

International Rush Day on December 21
(unofficial celebration of fans of the musical group);

Winter Solstice Day on December 22
;

Nochebuena in Spain and Spanish-speaking countries on December 24
;

Second day of Christmas in Spain on December 26
;

Feast of the Holy Innocents or Childermas in Spain and Latin American countries on December 28
(and Els Enfarinats in Ibi, Spain. Christian feast day - the festival is celebrated with pranks, similar to April Fools' Day);

Innocent Saints Day on December 28
;

International Indian Film Day on December 30