Dance of Los Mantudos Day in honor of Our Lady of Guadalupe in León, Nicaragua
Dance of Los Mantudos Day in honor of Our Lady of Guadalupe in León, Nicaragua is held on December 12. This event in the second decade of the month December is annual.
Help us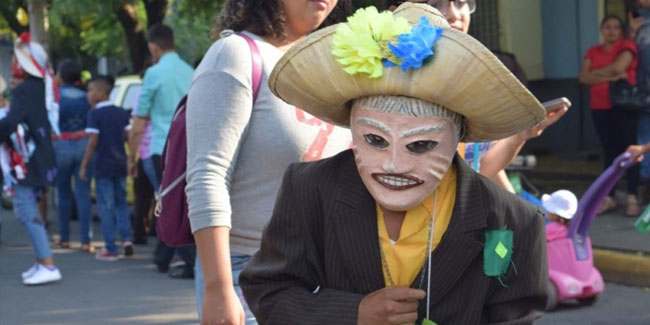 Los Mantudos is a traditional Nicaraguan religious dance that is popularly performed in the Pacific region of Nicaragua, mainly in the cities of Chinandega, Chichigalpa and León.
In 1862, ancestors of the Mejia family of the "San Benito" region began the tradition of the "Mantudo dance" dancing in honor of the saint accompanied by a philharmonic band that performed the so-called "son del Mantudo". As the years went by, more and more dancers joined in, which is why it began to be called the "Mantudo dance".
Every year, on May 17 and 18 during the religious festivities in memory of St. Pascual Bailon, this dance is performed by devotees of this Catholic saint of Spanish origin in the neighborhood of "El Calvario" in the city of Chinandega, departmental capital of the department of the same name.
In the city of Leon, every December 12 during the festivities in honor of the Blessed Virgin of Guadalupe, the dance of "Los Mantudos" is performed by a group of fourteen characters: the "Galán" and the "Dama" plus twelve soldiers.
The masks of the gallant and the lady reflect faces of Spanish types. The soldiers wear their faces hidden under masks with fangs sticking out of their mouths in the popular representation of the devil's face.
This variant is an indigenous folkloric manifestation of the indigenous community of Sutiava. It is an expression of protest, mockery and repudiation against Spanish rule. Its origin is a reflection of the Amerindian's experience with the Spanish colonization that imposed their language and religion.
On December 12, the dancing group meets at the Mayordomo's house. From there, the parade departs to the Guadalupe temple square. After the day of Guadalupe, the representations continue for 12 consecutive days in the houses indicated by each one of the soldiers and conquerors.
Similar holidays and events, festivals and interesting facts

National Tango Day in Argentina on December 11
;

Violin Day on December 13
;

International Rush Day on December 21
(unofficial celebration of fans of the musical group);

Takanakuy on December 25
(Chumbivilcas Province, Peru);

Pop Music Chart Day on January 4
;

National Festival of Chacarera in Argentina on January 7
(Held two days at the end of the first week of January. Festival of the santiagueña folkloric music with the participation of renown artists);

Composers Day in Mexico on January 15
(unofficially celebrated since 1965, officially since 1983);

National Charango Day in Bolivia on January 15