Fiesta de Los Escobazos in Jarandilla de la Vera
Fiesta de Los Escobazos in Jarandilla de la Vera is held on December 7. This event in the first decade of the month December is annual.
Help us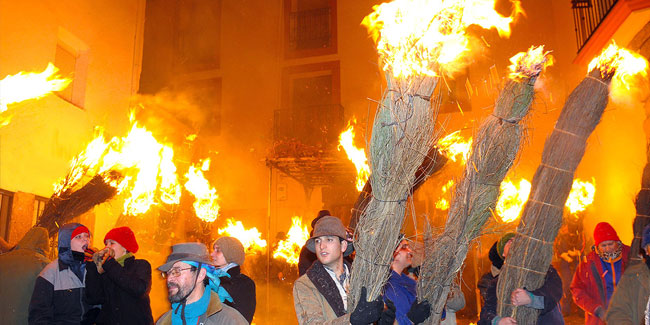 The Fiesta de Los Escobazos is celebrated every year on December 7 in this town of Jarandilla de la Vera in Cáceres, Cáceres. That day the Jarandillanos commemorate the day of the Immaculate Conception.
Jarandilla de la Vera is a town of about 3,000 inhabitants, belonging to the province of Cáceres in the Community of Extremadura. It is located in the Comarca de la Vera, known for the fact that 35% of the tobacco production in Spain is produced there and for the famous "pimentón de la Vera" (paprika).
The oral tradition tells us that the origin of the Fiesta de los Escobazos in Jarandilla de la Vera is in the goatherds and shepherds when centuries ago they returned from the mountains to take care of their livestock, with the intention of celebrating the Day of the Immaculate Conception. In order to arrive on time, the shepherds began the descent of the mountains at night.
It was a complicated journey and they had no light, they suffered different mishaps and to avoid them, one day they decided to prepare some torches using the brooms or brooms that were in the place. It was at that moment when the tradition of the "escobazos" was born. Escobazos are torches made from brooms, a typical bush of the area.
When they arrived at the town, their relatives and neighbors received them with great joy and they demonstrated it by hitting each other with the lit broomsticks.
Similar holidays and events, festivals and interesting facts

Constitution Day in Spain on December 6
;

Baroque Pride Day on December 7
;

Teacher's and Student's Day in Gáldar on December 7
;

Immaculate Conception on December 8
(public holiday in several countries, a holy day of obligation in others);

Fiesta de la Aceituna in Martos on December 8
;

Patron's Day of the Army Infantry in Spain on December 8
;

Mariscada Day in Spain on December 9
;

International Day for Secularism and Freedom of Conscience on December 9
;

World Computing Day on December 9