Eight Billion Day
Eight Billion Day is held on November 15. This event in the second decade of the month November is annual.
Help us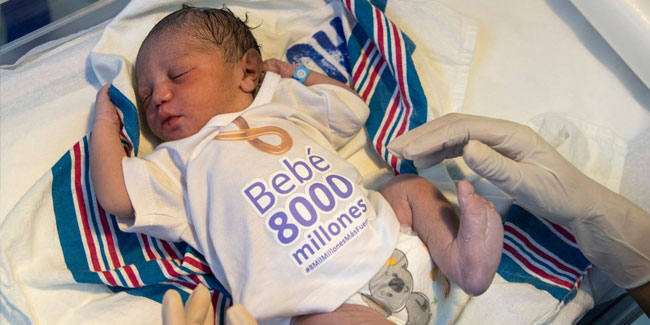 Eight Billion Day, marked at 8:00 a.m. UTC on November 15, 2022, was designated by the United Nations as the approximate day when the world's population reached eight billion people. It follows the seven billion day, celebrated on October 31, 2011.
It is estimated that on November 15, 2022, the world's population will reach 8 billion people: a milestone in human development. This unprecedented growth is due to increased life expectancy, thanks to advances in public health, nutrition, personal hygiene and medicine. It is also a consequence of sustained high levels of fertility in some countries.
Sadia Sultana Oishi, the 7 billionth inhabitant, and Adnan Mevich, the 6 billionth.
It is not possible to find out exactly when the world crossed the 8 billion inhabitants mark, explains Patrick Gerland of the UN Statistics Division. There may be a variation of one or two years. The fact is that the number of earth's inhabitants is counted on the basis of census data. In developed countries, such as Britain, they give a margin of error of 1 percent. But in Afghanistan, for example, which conducted its first and last census in 1979, or in Lebanon, where there was no census at all after World War II, it is much harder to do the calculations. That is why the UN supplements old census data with large-scale studies of births, deaths and migration.
Similar holidays and events, festivals and interesting facts

International Day against Illicit Trafficking in Cultural Property on November 14
;

Loosen Up, Lighten Up Day on November 14
;

Philanthropy Day on November 15
;

International World Heritage Day on November 16
;

World Button Day on November 16
;

Have a Party with Your Bear Day on November 16
;

World Needlework Day on November 16