Student's Day in Panama
Student's Day in Panama is held on October 27. This event in the third decade of the month October is annual.
Help us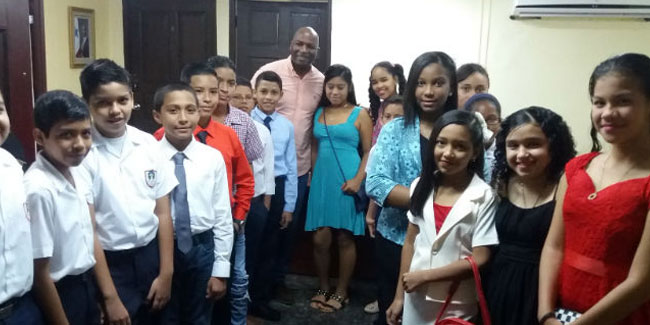 Student's Day is celebrated every October 27th in Panama, as established by Law No. 1 of October 22nd, 1948.
In 1943, Professor Felipe Juan Escobar was dismissed by order of President Ricardo A. de la Guardia, because the distinguished professor did not salute him. This act provoked the first student strike that laid the foundations to organize between February and March 1944, the glorious Federation of Students of Panama (FEP).
In his eagerness to stop student organization, the Minister of Education Victor F. Goytía wanted to impose a "contract" by which those who aspired to enroll had to renounce the right to attend assemblies and join the Federation. This motivated, in September and October 1944, a second student strike that included both university and high school students. This struggle resulted in a total defeat of the repressive maneuver and the resignation of the Minister of Education on October 27, 1944.
Subsequently, the general secretary of the FEP, Moisés Pianeta, succeeded in making that date official as Student's Day.
Similar holidays and events, festivals and interesting facts

World Breast Cancer Day on October 19
;

Panama Independence Day / Separation Day on November 3
(celebrates the separation and independence of Panama from Colombia in 1903);

Panama Flag Day on November 4
;

Colón Day in Panama on November 5
(Colon is a city and seaport in Panama, beside the Caribbean Sea, lying near the Atlantic entrance to the Panama Canal. It is the capital of Panama's Colón Province and has traditionally been known as Panama's second city);

Cry of Independence Day in Panama on November 10
("Primer Grito de Independencia de la Villa de los Santos" celebrating The Gesture of Rufina Alfaro and the uprising in the Villa de los Santos against Spain);

Journalists Day in Panama on November 13
(Día del Periodista. Date commemorating the death of journalist and poet Gaspard Octavio Hernandez in 1918);

Panama Independence Day on November 28
(celebrate the independence of Panama from Spain in 1821)