Doi taikomatsuri in Japan
Doi taikomatsuri in Japan is held on October 13. This event in the second decade of the month October is annual.
Help us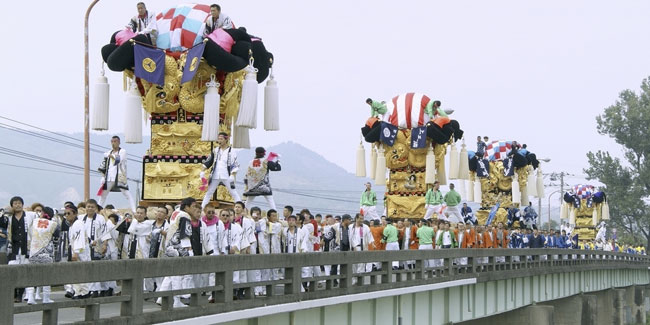 Doi taikomatsuri (土居太鼓祭り) is a festival held in Doi, Shikokuchūō, Ehime, Japan every year from the 13th to the 15th of October. It is dedicated to wishing for a good harvest.
The Vietnamese term bụi đời ("life of dust" or "dusty life") refers to vagrants in the city or, trẻ bụi đời to street children or juvenile gangs. From 1989, following a song in the musical Miss Saigon, "Bui-Doi" came to popularly in Western lingo, referring to Amerasian children left behind in Vietnam after the Vietnam War.
Similar holidays and events, festivals and interesting facts

Takayama Autumn Festival on October 9
(Takayama, Japan);

Physical Education Day or Health and Sports Day or Taiku-no-hi in Japan on October 9
(体育の日 is a public holiday and is celebrated since 2000 on the second Monday of October);

Ise Jingū Kannamesai in Japan on October 17
(October 15–25);

Jidai Matsuri in Kyoto, Japan on October 22
;

World Karate Day on October 25
;

Prefectural Earthquake Disaster Prevention Day on October 28
(Gifu Prefecture, Japan);

First Love Day in Japan on October 30
(Hatsukoi No Hi)