World French Fries Day
World French Fries Day is held on August 20. This event in the second decade of the month August is annual.
Help us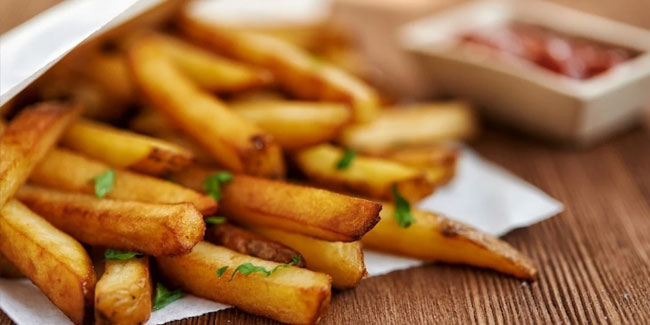 And although we are used to eating potato chips in their original form, seasoning them only with a pinch of salt or combining them with cheese or spices, we can also find them in presentations with extremely extravagant and strange flavors, such as wasabi-flavored potato chips, fried chicken, seaweed, fried egg, chicken waffles, cappuccino, sour plum, mayonnaise or even chili flavored with chocolate.
Throughout history, people's diets have changed according to multiple factors, some having to do with the climatic aspect of regions, others with culture, economics and more, which has allowed food and cooking around the world to be different and diverse.
Potatoes are incredibly multifaceted, as they can be consumed in many ways, however, currently the most widespread form of consumption of this tuber is as a snack in fried preparation.
The origin of this way of eating potatoes is still uncertain. It is believed that it may have been the result of a culinary whim, since it is said that in order to please the demanding palate of a customer who complained about the thickness of the potato pieces in the meal, the chef in question decided to slice them as thinly as possible and dip them in oil to achieve a crunchy effect when biting them.
It is not known exactly if this version of the origin of French fries is true, but what is a fact is that this way of eating them is delicious, practical and very popular.
The taste for this food has led society to reflect it through the celebration of World French Fries Day.
Similar holidays and events, festivals and interesting facts

Children's Day in Argentina and Peru on August 18
(celebrated on the third Sunday in August);

Callao Festival in Peru on August 20
(Día del Callao since 1836. Callao is a special autonomous region and port in Peru, on the Pacific coast, 10 km west of the center of Peru's capital - Lima, just south of the mouth of the Rimac River);

International Booktuber's Day on August 22
;

Human Rights and Citizen Day in Uruguay on August 22
(Día de los Derechos del Hombre y el Ciudadano);

National Coffee Day in Peru on August 23
(Held on the fourth Friday of August);

Nostalgia Night in Uruguay on August 24
;

Payador Day in Uruguay on August 24