Memorial Day of the Baghdad Tragedy in Iraq
Memorial Day of the Baghdad Tragedy in Iraq is held on August 19. This event in the second decade of the month August is annual.
Help us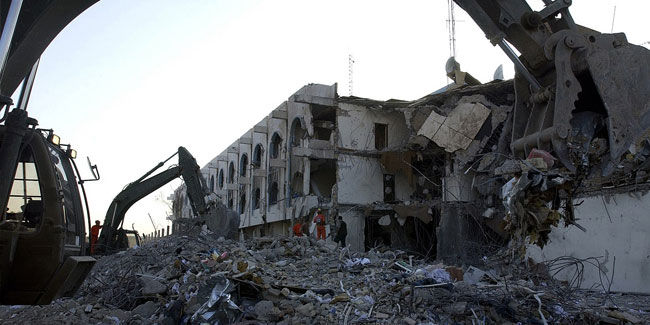 The Canal Hotel bombing was a suicide car bombing in Baghdad, Iraq, during the afternoon of August 19, 2003. It killed at least 22 people, including the United Nations Special Representative in Iraq, Sergio Vieira de Mello, and wounded nearly 100 others, including renowned human rights lawyer and political activist Amin Mekki Medani. The target of the attack was the United Nations Assistance Mission for Iraq set up just five days earlier. The UN had been using the hotel as its headquarters in Iraq since the early 1990s. The attack resulted in the withdrawal within weeks of almost all of the nearly 600 UN personnel in the country. This event had a profound security impact on the conduct of UN activities globally.
Similar holidays and events, festivals and interesting facts

Ashura on July 16
(is a major festival for Shia Muslims and commemorates the martyrdom at Karbala of Hussein, a grandson of the Prophet);

National Iraqi Day on October 3
(celebrates the independence of Iraq from the United Kingdom in 1932);

Victory Day in Iraq on December 10
(Celebrates the defeat of the ISIS in Iraq in 2017);

Armed Forces Day in Iraq on January 6
;

Father's Day in some Islamic countries on January 25
(Iran, Kuwait, Bahrain, Iraq, Oman, Qatar, Egypt, Yemen, Syria, Lebanon, Somalia, Sudan, Mauritania is celebrated on the 13th day of the month of Rajab);

Spring Day in Iraq on March 21
;

Mother's Day in most of the Arab world on March 21
(Bahrain, Comoros, Djibouti, Egypt, Iraq, Jordan, Kuwait, Libya, Lebanon, Mauritania, Oman, Palestine, Qatar, Saudi Arabia, Somalia, Sudan, Syria, United Arab Emirates, Yemen)