Our Lady of Fatima Day in Honduras
Our Lady of Fatima Day in Honduras is held on May 13. This event in the second decade of the month May is annual.
Help us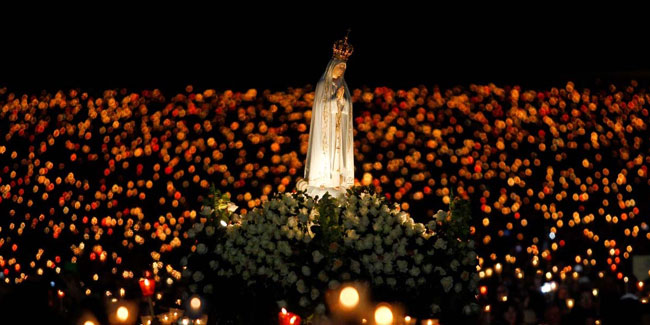 In Honduras there is a great closeness to the devotion to the Virgin of Fatima. On May 13 were the most important apparitions of the Virgin of Fatima, which were studied by the Catholic Church, according to the religious.
Enma Rosa Izaguirre, a devotee of the Virgin, said that she always comes to the church to pray the rosary. "The Virgin keeps me alive and intercedes for us before her son, she invites us to get closer to her son every day," she added.
In the municipality of San Francisco de La Paz, Olancho, the veneration of the Virgin began decades ago when Monsignor Nicolas D'Antonio donated the image that is in the parish of the urban center.
Similar holidays and events, festivals and interesting facts

Motherís Day on May 12
(Anguilla, Antigua and Barbuda, Aruba, Australia, Austria, Bahamas, Bangladesh, Barbados, Belgium, Belize, Bermuda, Bhutan, Bonaire, Botswana, Brazil, Brunei, Canada, Cambodia, Cayman Islands, Central African Republic, Chad, Chile, China, Colombia, Congo, Dem. Rep., Congo, Rep., Cote d'Ivoire, Croatia, Cuba, Curaçao, Cyprus, Czech Republic, Denmark, Dominica, Ecuador, Equatorial Guinea, Estonia, Ethiopia, Faroe Islands, Fiji, Finland, Germany, Gabon, Gambia, Greenland, Ghana, Greece, Grenada, Guyana, Honduras, Hong Kong, Iceland, India, Italy, Jamaica, Japan, Kenya, Latvia, Liberia, Liechtenstein, Macau, Malaysia, Malta, Myanmar, Namibia, Netherlands, New Zealand, Pakistan, Papua New Guinea, Peru, Philippines, Puerto Rico, Saint Kitts and Nevis, Saint Lucia, Saint Vincent and the Grenadines, Samoa, Singapore, Sint Maarten, Slovakia, South Africa, Sri Lanka, Suriname, Switzerland, Taiwan, Tanzania, Tonga, Trinidad and Tobago, Turkey, Uganda, Ukraine, United States, Uruguay, Vietnam, Venezuela, Zambia, Zimbabwe);

Feria de San Isidro in La Ceiba, Honduras on May 12
(the week preceding the third Saturday in May. It is a lively fun-filled event full of street pageantry);

America's Accountants Day on May 17
;

Honduran Journalist's Day on May 25
;

Honduran Forestry Professional's Day and National Tree Day on May 30
;

Corpus Christi on June 8
(Held on the Thursday after the Trinity. Monaco, Trinidad and Tobago, Austria, Venezuela);

Student Day in Honduras on June 11