U.S. National Croc Day
U.S. National Croc Day is held on October 23. This event in the third decade of the month October is annual.
Help us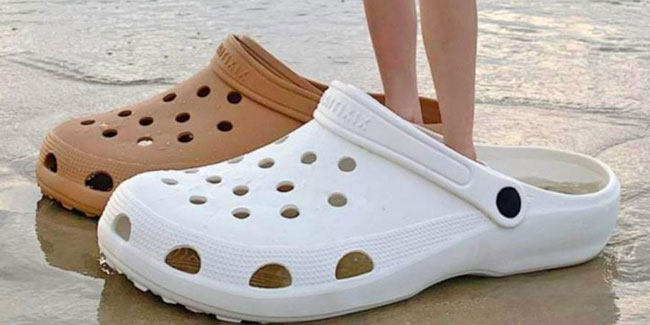 They're comfortable, they're fashionable, and most importantly it's fun to bring your own style to how you wear them.
Crocs began their journey in 2002 in Boulder, Colorado. Inspired by the Dutch clog, Crocs were originally designed to be boating shoes. Since the shoes were designed to perform on both land and sea, the brand pulled its name from the multi-environment, amphibious crocodile.
That proprietary Crocs foam is a thing of legends. Designed to perform on both land and sea, Crocs are made of a patented foam called Croslite. The foam, which is exclusive to Crocs, is actually closed-cell resin, not plastic or rubber as one might assume. The brand further innovated on Croslite in 2018, creating LiteRide, a material that is "25% lighter and 40% softer than Croslite, while still providing shock absorption and support," according to Fast Company.
Croctober is a moment to recognize Crocs fans and all one-of-a-kinds around the world that are the driving force behind the brand's success. It all started on October 23rd in 2017 with what was originally known as National Crocodile Day, when Crocs fans saw an opportunity to turn it into a celebration of their favorite shoe. They commemorated the day by wearing and posting about their beloved Crocs, encouraging others to do the same, and igniting a movement across social media. Soon, Croc Day was born. Year-over-year, anticipation for this unique fan-first holiday grew, until what started as a one-day ode to the brand evolved into a global month-long celebration that is heralded today as Croctober.
Similar holidays and events, festivals and interesting facts

International Caps Lock Day on October 22
;

International Day for the Protecting Men's Nervous System From Women's Violence on October 22
;

Mole Day on October 23
(is an holiday celebrated among chemists);

iPod Day on October 23
(The first iPod was sold on November 10th, 2001, and the world has never been the same);

Earth Creation Day on October 23
;

Tv Talk Show Host Day on October 23
;

Punk for a Day Day on October 25