American Staffordshire Terrier Day
American Staffordshire Terrier Day is held on June 11. This event in the second decade of the month June is annual.
Help us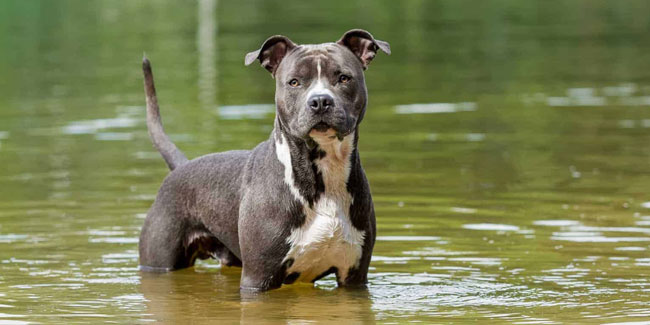 Today is the Anniversary that the American Staffordshire Terrier Standard was approved … June 10, 1936 (11th NZT)! The standard has not changed since then! Happy 86th American Staffordshire Terrier Day!
The American Staffordshire Terrier, known to their fans as AmStaffs, are smart, confident, good-natured companions. Their courage is proverbial. A responsibly bred, well-socialized AmStaff is a loyal, trustworthy friend to the end. AmStaffs are stocky, muscular bull-type terriers standing 17 to 19 inches at the shoulder. The head is broad, the jaws well defined, the cheekbones pronounced, and the dark, round eyes are set wide apart. AmStaff movement is agile and graceful, with a springy gait that advertises the breed's innate confidence. The stiff, glossy coat comes in many colors and patterns. AmStaffers describe their dogs as keenly aware of their surroundings, game for anything, and lovable 'personality dogs' around the house. AmStaffs like mental and physical challenges. They are highly trainable, as their many forays into showbiz suggest.
The American Staffordshire Terrier Club NZ, established in 2009.
Similar holidays and events, festivals and interesting facts

National Dog Day in Argentina on June 2
(Día Nacional del Perro);

Take Your Dog to Work Week in US on June 17
(Celebrated Monday after National Father's Day);

National Dog Party Day in US on June 21
;

Take Your Dog to Work Day on June 21
(Friday after Father's Day);

Dog Friendly Ireland Day on June 25
;

National Dog's Day in Poland on July 1
;

US International Dog Day on July 3
(#IDD)