Saint Romero's Day in El Salvador
Saint Romero's Day in El Salvador is held on March 24. Día de San Romero, mártir de América. This event in the third decade of the month March is annual.
Help us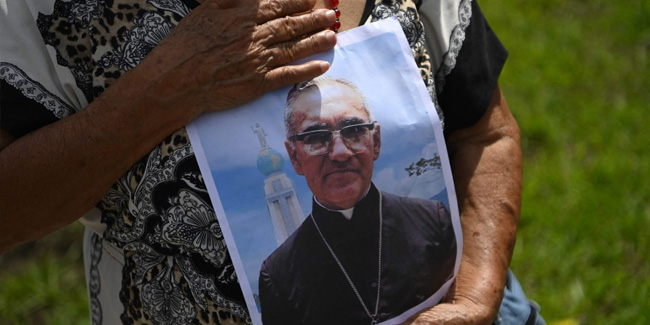 Óscar Arnulfo Romero y Galdámez (Ciudad Barrios, August 15, 1917 – San Salvador, March 24, 1980), known as Monsignor Romero, was a Salvadoran Catholic priest, fourth Metropolitan Archbishop of San Salvador (1977-1980), famous for his preaching in defense of human rights.
As archbishop, he denounced numerous human rights violations in his Sunday homilies and publicly expressed his solidarity with the victims of political violence in his country. His assassination sparked international outcry demanding respect for human rights in El Salvador. Within the Catholic Church he was considered a bishop who defended the "preferential option for the poor." In one of his homilies, he stated: "The mission of the Church is to identify with the poor, thus the Church finds her salvation" (November 11, 1977).
In 1979 he was nominated for the Nobel Peace Prize at the proposal of the United Kingdom Parliament, however, the winner of this award that year was Teresa of Calcutta.
He was killed during the celebration of a Eucharist in the chapel of the Divina Providencia hospital in San Salvador. The order of his assassination has never been officially confirmed.
On March 24, 1990, the cause for the canonization of Archbishop Romero began. In 1994, the request for canonization was formally presented to his successor, Arturo Rivera y Damas. From this process, Monsignor Romero received the title of Servant of God. On February 3, 2015 he was recognized by the Catholic Church as a martyr "for hatred of the faith", when Pope Francis approved the decree corresponding martyrdom and promulgated by the Congregation for the Causes of Saints. For this reason, in accordance with due process as stipulated by the Catholic Church itself, on May 23, 2015 he was beatified in the Salvador del Mundo square. Just over three years later, on October 14, 2018, he was canonized by Pope Francis in Saint Peter's Square in Rome.
The Catholic Church venerates him as a saint and some of his faithful refer to him as Saint Romero of America.
Similar holidays and events, festivals and interesting facts

Business Administrator Day in El Salvador on March 19
(Día del administrador de empresas);

Holy Monday on March 25
(Celebrated on the Monday before Easter);

International Day of the Unborn Child on March 25
;

Holy Tuesday on March 26
(Celebrated on the Tuesday before Easter);

Holy Wednesday on March 27
(celebrated on the week before Easter);

National Day of Girls and Boys Victims of Forced Disappearance in El Salvador on March 29
(Día Nacional de las Niñas y los Niños Víctimas de la Desaparición Forzada);

Easter in Western Christianity on March 31
(Første påskedag in Norway)