Maltese Carnival
Maltese Carnival is held on February 7. This event in the first decade of the month February is annual.
Help us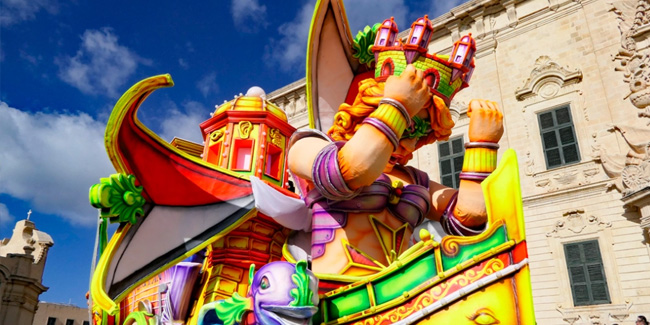 Il-Karnival ta' Malta or The Malta carnival is a Catholic religious celebration, has had an important place on the Maltese cultural calendar for just under five centuries, having been celebrated since at least the mid-15th century. The carnival traditionally serves as the last indulgence before the beginning of Lent on Ash Wednesday. In fact, the word carnival stems from carnivore, which translates to 'meat allowed'.
The carnival is held during the week leading up to Ash Wednesday, and typically includes masked balls, fancy dress and grotesque mask competitions, lavish late-night parties, a colourful, ticker-tape parade of allegorical floats presided over by King Carnival, marching bands and costumed revellers. Today, the carnival fuses old and modern traditions and brings about a party atmosphere to Malta, as well as in Gozo.
Similar holidays and events, festivals and interesting facts

Republic Day in Malta on December 13
;

Saint Lucy's Day on December 13
(mainly Scandinavia, some regions of Italy for example, Sicily, Veneto and Trentino, and Malta);

Feast of St. Paul's Shipwreck in Malta on February 10
;

People's Sunday in Malta on February 11
(celebrated on the first Sunday of Lent);

St. Joseph's Day on March 19
(Italy, Malta, Liechtenstein);

Freedom Day in Malta on March 31
(This important milestone was achieved during 1979 when the complete withdrawal of the British troops and Royal Navy marines left the island);

Freedom Day in Malta on April 1
(the anniversary of the closure of the English base, celebrated since 1979)