National Khachapuri Day in Georgia
National Khachapuri Day in Georgia is held on February 27. This event in the third decade of the month February is annual.
Help us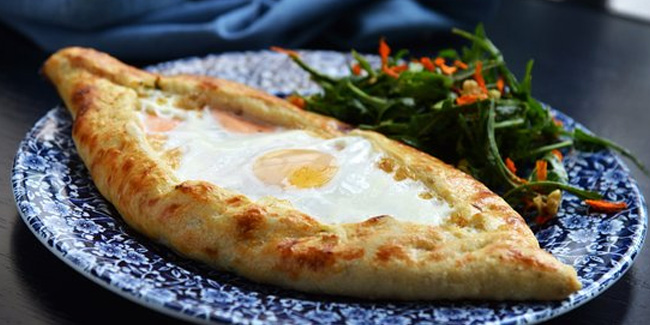 2020 - Intangible cultural heritage of Georgia.
It is baked in an oven or earthenware bread-baking dish. There are more than 50 types of Khachapuri from different regions of Georgia. For example Adjarian, Gurian, Megrelian, Meskhetian, Tushetian and etc. With their technology and essence, they belong to the Khachapuri group and represent the diversity of the dish.
It probably dates back to the 12th century when Georgia went through the Renaissance. The name connects two different cultures. The word "khacha" in Georgian means "curdled cheese" and "puri", which comes from India and means "bread".
Ajara, the region in the south west corner of Georgia, serves a version of khachapuri in which the dough is shaped into a boat that is then filled with the cheese mixture. This bread is topped with a raw egg and a pat of butter before serving.
Similar holidays and events, festivals and interesting facts

Soviet Occupation Day in Georgia on February 25
;

Georgia Mother's Day on March 3
;

Mother Tongue Day in Georgia on April 14
;

Armed Forces Day in Georgia on April 30
;

St. George the Victorious Day in Georgia on May 6
(St. George is considered the patron saint of the country and the feast day of St. George is celebrated twice - November 23 and May 6);

Saint Andrea the First Day on May 12
(Georgia);

Feast of the Mother of God on August 28
(Eastern Orthodox Church, a public holiday in the Republic of Macedonia, Serbia, and Georgia)