National Sushi Day in USA
National Sushi Day in USA is held on November 1. This event in the first decade of the month November is annual.
Help us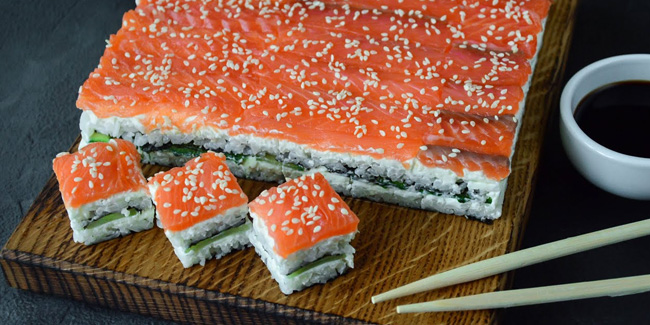 Did you know sushi does not actually mean 'raw fish'? Conflicting to widespread faith, sushi actually refers to rice that has been seasoned with vinegar, sugar, and salt. It is a great source of omega-3 fatty acids.
There are different types of sushi like maki, temaki, uramaki, sashimi, and nigiri. And: about 99.99% of all sushi rice that is served in the United States was grown in the United States.
Similar holidays and events, festivals and interesting facts

National Caramel Apple Day and Candy Apple Day in USA on October 31
;

Rakfisk Festival in Fagernes, Norway on October 31
(The Norwegian Rakfisk Festival in Fagernes is all about a semi-fermented trout called rakfisk, that has a unique flavor thanks to its long fermenting process);

International Rice Day on October 31
;

National Pâté Day and National Vinegar Day in USA on November 1
;

National Cook for Your Pets Day in US on November 1
;

International Xinomavro Day on November 1
;

National Eating Healthy Day in USA on November 1
;

National French Fried Clam Day in USA on November 1
;

National Deviled Egg Day in USA on November 2
;

Men Make Dinner Day on November 2
(celebrated on the first Thursday of November)