National Booch Day in USA
National Booch Day in USA is held on January 15. This event in the second decade of the month January is annual.
Help us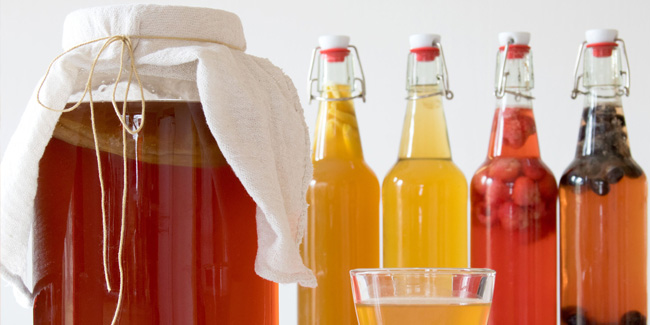 Kombucha is a fermented, lightly effervescent, sweetened black or green tea drink commonly consumed for its purported health benefits. Sometimes the beverage is called kombucha tea to distinguish it from the culture of bacteria and yeast. Juice, spices, fruit or other flavorings are often added to enhance the taste of the beverage. The exact origins of kombucha are not known, although the most likely place of origin is the Bohai Sea district in China.
Similar holidays and events, festivals and interesting facts

National Hot Pastrami Sandwich Day in USA on January 14
;

National Fresh Squeezed Juice Day and National Strawberry Ice Cream Day in USA on January 15
;

Melon and Wine Day in Chile on January 15
;
National Fig Newton Day in USA on January 16
;

International Hot and Spicy Food Day on January 16
;

National Undhiyu Day in Gujarat, India on January 16
;

National Hot Buttered Rum Day in USA on January 17
;

Pig and Stomach Day in Latvia on January 17
(Tena diena or Tanis diena, Gentlemen's Day)